Archived News
School Board publicly opposes mask mandate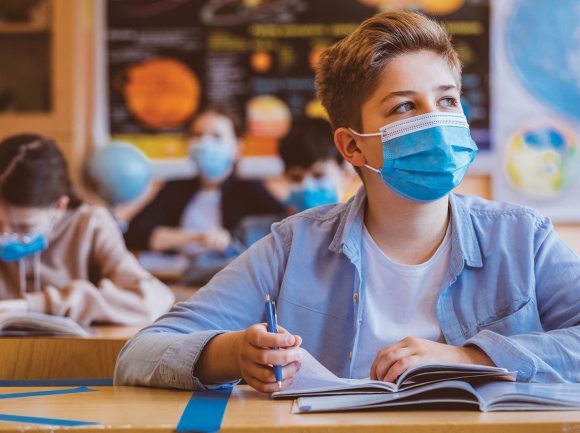 At a special called board meeting last week, Haywood County Schools Board of Education considered defying the current mask mandate in place for North Carolina Public Schools.
The board met for a special-called meeting June 21. Earlier in the day, new legislation had been proposed, within Senate Bill 173, in the North Carolina General Assembly that would allow local school boards to set their own mask policies for the 2021-22 school year.
Under current guidelines from the North Carolina Department of Health and Human Services laid out in the Strong Schools NC Public Health Toolkit, students in North Carolina Public Schools are required to wear masks while indoors. Masks are still recommended under CDC guidelines, due to the fact that a majority of school age children are not yet vaccinated. Vaccines are currently available for children 12 years and older.
Board member Larry Henson made a motion that would allow students and staff not to wear masks. Lengthy discussion ensued during which School Board Attorney Pat Smathers told the board such a motion would not be legal.
"We're not on firm ground on this. Ethically, I have to tell y'all that y'all should not pass this motion," said Smathers. "If you go this route, I think there's a lot of peril out there for us."
Board member Bobby Rogers asked Smathers whether the Governor's executive order was even legal, citing the North Carolina constitution and the need for the Governor's cabinet to approve executive orders within 30 days. Rogers says such an approval never took place.
Smathers said he was not sure about that rule and whether it affected executive orders but pointed out that the governor was not acting alone. The North Carolina legislature passed legislation last summer that required schools to follow guidelines set out by the North Carolina Department of Health and Human Services when they reopened.
Following further discussion involving the complexity of the issue, whether there is a pathway to a legal challenge to the mask mandate and the general complaints board members have been receiving from parents, School Board Chairman Chuck Francis asked Henson to withdraw his motion.
"I think you all, as a board, have led the way in the state for doing everything that you legally could do," said Superintendent Bill Nolte. "I'm very proud of our whole school system, board included, for doing as much as we could do. We went to school five days a week, and the other folks who went for the most part went four days. Twenty-five districts didn't go at all. So you have certainly led the way for this community, I think, as far as you legally could. And so I would continue to work to that end. But you know, I don't know what else we can do safely to change any of the other orders rather than continuing to talk to our state representatives and the governor's office."
After the initial motion was withdrawn board members unanimously passed two other motions. The first stated that Haywood County Schools Board of Education publicly opposes the current mask mandate for public schools in North Carolina and directs the school administration to develop procedures to comply with the mask mandate but to lessen the negative impact by encouraging and implementing social distancing and outdoor instruction pursuant to Tool Kit guidelines.
Regarding the motion, Nolte provided procedures for principals, summer school directors and summer childcare directors. Principals and directors should remind students and staff that masks are only required when school is in session, inside school buildings, remind students and staff that masks are optional outside school buildings, remind staff that masks are optional when students are not present, encourage staff to conduct summer school and childcare outside whenever possible and use mask breaks with social distancing as often as practical and authorized in the Tool Kit.
The second motion states that the Haywood County Schools Board of Education supports Senate Bill 173, which if passed into law would give local school boards the authority to establish local mask rules and regulations.