Archived News
Jackson schools will begin with mask mandate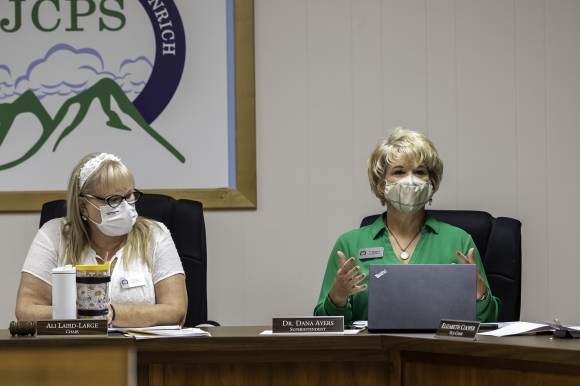 Jackson County Schools will begin the 2021-22 school year with a mask mandate for all students, staff and visitors, with a plan to reassess the mandate regularly as the school year progresses.
North Carolina Gov. Roy Cooper released new health guidelines for North Carolina Public Schools last week, part of which ended the state-wide mask mandate as of July 30 and gave local boards of education the power to decide if, when and how masking would be required in schools.
Those same guidelines, outlined in the StongSchoolsNC Public Health Toolkit, recommended that schools with grades K-8 require students, staff and visitors to wear masks indoors. Masking is advised because children under the age of 12 have not yet been cleared for vaccination. The updated guidelines recommend that schools with grades 9-12 require masks for all students, staff and visitors who are unvaccinated. According to Dr. Mandy Cohen, only 24 percent of North Carolinians age 12-17 are vaccinated. The CDC recommends that all students and staff in grades K-12 wear masks indoors, regardless of vaccination status.
Superintendent Dr. Dana Ayers presented the school board with three options for masking to start the 2021-22 school year. Option A would require masks for all students and staff grades K-12. Option B would follow Gov. Cooper's guidance and require masks for all students and staff in grades K-8, as well as unvaccinated students and staff in grades 9-12. Option C would make masks optional for everyone.
Regardless of which option the board chose, Ayers laid out a schedule for the decision to be reassessed at board meetings throughout the school year.
When discussion opened up to the board, member Wes Jamison asked, "if you're unmasked and a student tests positive for COVID, that classroom is basically shut down, is that correct?"
Ayers confirmed that was correct. According to current health guidelines in the Public Health Toolkit, if students are unmasked in a classroom and one of those students tests positive, all students in the classroom would be considered a close contact and would have to be quarantined for at least 10 days.
According to the Toolkit guidelines, anyone who is fully vaccinated, and has no symptoms of COVID-19, does not need to quarantine after having close contact with an infected person. The same is true for people who have not been vaccinated, as long as the subjects were appropriately and consistently distanced and wearing masks.
"I think all of us feel that we would like to keep the schools open and the classrooms open as much as we can," said Board Chairwoman Ali Laird-Large.
Large noted that if masks were optional it would be difficult to ascertain who is vaccinated, and who is not.
"It's most important for our kids to be in the classroom five days a week, because we did not get that for the last year and a half," said board member Abigail Clayton.
The board decided to go with option A, requiring masks for all students, staff and visitors indoors. They felt this option would give students in Jackson County Schools the best chance at in-person instruction, five days per week. Elizabeth Cooper made the motion, which was seconded by Abigail Clayton.
"I want to make everyone aware that we will be revisiting this," said Laird-Large.
According to Ayers' plan, the decision will be reassessed at the Sept. 28, Nov. 23, Jan. 25 and March 22 board meetings.
"That doesn't mean it can't be discussed at every meeting, but it will be on the agenda at those meetings," said Ayers.
"I think we all hope that this isn't something that has to continue the entire school year," said Clayton.
JCPS athletic programs will follow current NCHSAA guidelines. However, after July 30, the requirement for athletes to wear masks during indoor activities will become a local option. The board delegated this issue to school administration.
Leave a comment
1

comment
Good for Jackson County! It's a comfort to know that one school district in WNC has leaders who rely on science, not online propaganda.

Monday, 08/02/2021