Archived News
Shining Rock begins school year in new, permanent home
Wednesday, August 18, 2021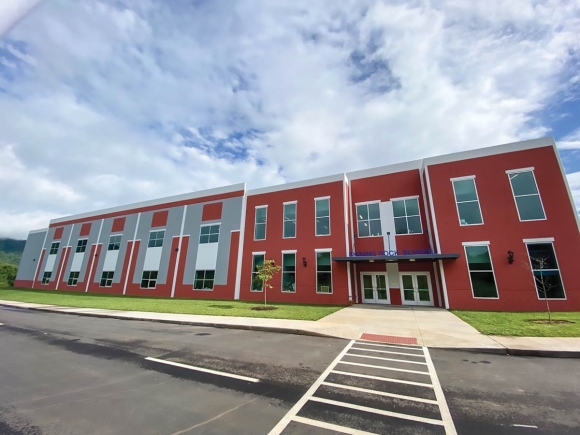 The quiet calm of a bright summer morning dissipates like dew off the freshly manicured lawn upon entering Shining Rock Classical Academy. Inside, the back-to-school energy is palpable.
At the front office, one student is getting checked out, another is waiting for the receptionist to walk him back to a classroom, and before they can leave a tiny, pigtailed girl wanders around the corner asking the woman behind the front desk if she is in the right place.
Something about the matching uniforms make all these children look like they are ready for more than just school. In their khaki pants and zip up hoodies over polos, they almost look like they are ready for adventure, an appropriate look for a school focused on experiential learning.
Shining Rock Classical Academy is experiencing more than its normal share of back-to-school excitement this year as the 2021-22 school year will be the first spent in its brand-new building off Russ Avenue.
After a little over a year at the Wilson and Shackford buildings on the grounds of Lake Junaluska, the public charter school secured the temporary campus at 1023 Dellwood Road. In 2020, the Shining Rock Board of Directors agreed to move forward with a permanent location. The Russ Avenue property was secured, and Shining Rock entered a partnership with BC Construction Group and Premier Financial to begin construction of the new school.
Groundbreaking took place last October, which began the 10-month process to get students in the school doors this August.
"All along for Shining Rock, what we wanted to try and do was to have a permanent facility. We've always had a really good working relationship with the lake, with the Dellwood Property, but that was a lease," said Head of School Josh Morgan. "This was an opportunity for us to have a permanent home and a permanent facility."
In addition to a full-size gymnasium, the school building hosts grades K-9. Currently, the school has four kindergarten classes, three classes in each grade first through seventh and two classes each in eighth and ninth grade. The former Dellwood location is being used for the Shining Rock Classical Academy Pre-K program for 3- and 4-year-olds.
"We saw a real need for Pre-K programs in the community and we are excited to help fill that need with our Pre-K program," said Morgan.
The bottom floor of the new school building is home to elementary grades, and as he passes each classroom, Morgan is greeted with excited waves from the students within. In one kindergarten classroom, students are lined up at the door, most of them sporting some sort of camouflage printed accessory.
"They're undergoing ABC boot camp. One letter each day for 26 days," said Morgan.
Upstairs are middle school and early high school grades. Though the school currently only serves students through ninth grade, the plan is to add one more grade level each year as those ninth graders move through their high school career. According to Morgan, plans are already in the works for a second wing of the new building, as the school continues to add more students.
The beauty of the property is especially noticeable on the second floor of the building. Every classroom seems to boast a picturesque view of smoky, green mountains out its several windows. The natural light is abundant, and Morgan is excited to demonstrate one of his favorite features.
Special classes, like art, have their own, permanent rooms in the new building. Previously those teachers took materials with them and went into the classroom of each group of students they were teaching. In the new building the art room is complete with tables and materials. Morgan pops his head into the room, already lit almost completely with natural light and demonstrates the dimmable lights.
"That's one of my favorite parts. Not only does it allow us to conserve some energy, but it also allows us to use natural light and not be bombarded by fluorescents all the time," he said.
Mental Health Resources
Shining Rock Classical Academy has one full-time counselor, as well as one full-time nurse that both assist in maintaining students' mental health.
Morgan says the school takes a serious approach to all-around health, of which mental health is an important part. Students get to move around a lot throughout the day, take breaks for snacks, and receive at least some of their learning outside each day.
In addition to the full-time school counselor, the school partners with several mental health resources in the county to ensure Shining Rock students get the type of help they need, when they need it.
As Morgan walks back down the upper-grades hallway, we pass a student standing alone outside a classroom door.
"Everything OK?" Morgan asks.
"Yes, I'm just cooling off," the student replies in a tone that suggests Morgan knows exactly what he means.
"Good job, use your strategies," Morgan says.
Further down the hall Morgan remarks that this is an example of what he means when he talks about mental health and all-around health. Students should be empowered to use tools they have, and know work for them, to keep their mind and body healthy.
COVID-19
Though the total number of students attending Shining Rock Classical Academy this year does not reach the full capacity, over 600 students, for the new building, Shining Rock currently occupies every classroom, partly in an effort to help spread students out during this time when social distancing is necessary. Social distancing is just one way the school aims to reduce the spread of COVID-19.
The school has also decided to mandate masks, at least for now, for students, staff and visitors to the building.
According to Morgan, the school decided to mandate masks because local, state and national health officials were all recommending public schools do so.
"We wanted to make this school year as normal as possible," said Morgan. "By wearing masks, encouraging outdoor education whenever possible and spreading kids out, we will be able to have a less disruptive school year. Less cases and less quarantining."
According to Morgan, eight days in the school has already had more COVID-19 cases this year than all of last year. There have been 11 COVID-19 cases among students and staff, resulting in 67 individuals in quarantine protocol as of Aug. 16.
"If the school year had been starting up at the beginning of July, we probably wouldn't have been wearing masks," said Morgan.
But, cases in the community have risen significantly since July with Haywood County Health and Human Services reporting 73 daily cases, and 206 cases in the last seven days.
Because the guidelines laid out in the StrongSchoolNC Public Health Toolkit worked so well for the school last year, Shining Rock Classical Academy has decided to follow its guidelines again for the 2021-22 school year. The decision was made in conjunction with local health officials.