Archived News
Haywood County Schools assess flood damage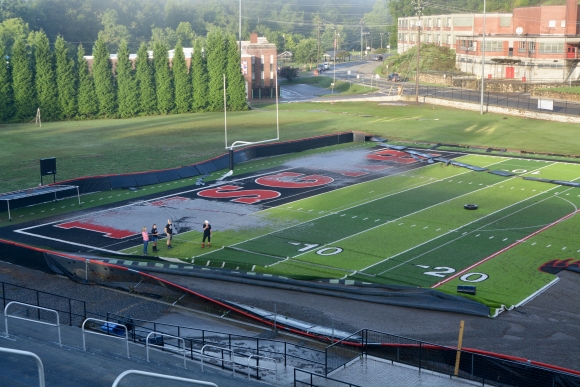 Haywood Schools officials confer on the field at Pisgah Memorial Stadium. Cory Vaillancourt photo
Tropical Storm Fred ravaged portions of Haywood County last week, including several school properties. The school board called an emergency meeting Aug. 19 to hear reports of the flood damage. Following Superintendent Dr. Bill Nolte's recommendation, students in Haywood County returned to school on Monday, Aug. 23.
However, due to the state of damage at Central Haywood High School, those students will have returned to virtual learning.
Property Damage
"We have sustained damage, but nothing like what has been sustained in the Cruso community and other areas of our county," said Associate Superintendent Trevor Putnam. "So I just don't want to draw any more heaviness to what we have to discuss as compared to what many of our friends and family are suffering right now."
According to Putnam, there was significant flooding in the parking lot of Meadowbrook Elementary, though the water did not enter the building. After waters receded, the parking lot was covered in a layer of mud that has since been cleaned out.
"We do have some things there to correct, culverts washed out and stone displaced, but with time, we can get that in order. It is operational at this time," he said.
Water did breach the education center in Clyde, but only in one isolated area. A storage room on the back end of the building took on water, and a small portion of water made it into the board room. It has been cleaned, dried and is safe for occupancy. The parking lot of the education center was also flooded and left with a layer of mud four inches thick that maintenance staff has removed. The Town of Waynesville sent a tanker truck of water to help clear the parking lot since at the time, water was shut off in Clyde.
"Thank you, Jeff Stines, for arranging that. He was ready to help," said Putnam.
Central Haywood High School sustained the most serious damage, though the full extent is not yet known. RestorePro, a damage repair company has evaluated the school's interior and advised the flooring, baseboard and sheetrock be removed because it will not dry enough to be salvageable.
"We're looking at extensive repair and replacement there for the lower floor of Central Haywood High School," said Putnam.
Additionally, water filled the cavity beneath the school and crews had to receive environmental clearance before pumping the water out. Once the water has been removed inspectors will determine if there has been damage to supporting floor trusses/ members, walls, HVAC and other facilities.
The Pisgah football field, which was completely flooded with water during the height of flood waters, looks drastically better, according to Putnam, following environmental clearance and hard work by a number of volunteers. An estimator from Astroturf will evaluate the field and determine how much it will cost to get the field back in order. Engineers are assessing the bleachers to determine safety and necessary repairs.
"We had an army of volunteers and help from all over the place. It was really a sight to see. The two sides of the county may be divided most of the time, but they certainly were not today. And it was very pleasant to see. We had all kinds of folks helping," said Putnam.
Pisgah's softball and baseball stadiums, as well as Canton middle's softball and baseball fields, are also heavily damaged. The same crew that volunteered time to repair Pisgah football stadium also worked on the softball and baseball fields.
"To give you some idea of the force of the water, a Pepsi machine and a lock guard stand were recovered at the end of the football stadium, nearest Evergreen. So it had carried it at least a quarter of a mile. That's how forceful the water was," said Putnam.
The rising sun paints an ugly scene at Pisgah High School's Memorial Stadium. Greg Boothroyd photo
Road Damage
As of Thursday evening, closed roads — or those with closed portions — included Lake Logan Road, Cruso Road, Little East Fork Road, Mundy Field Road, Burnette Cove Road, East Fork Ranch Road, Chinquapin Road, Cold Creek Road, Max Thompson Road, Old Michael Road, Francis Farm Road, Sonoma Road, Henson Cove Road, Abel Road, Abbott Road, Dutch Cove Road, Turnpike Road, Chestnut Mountain Road, Groundhog Road, Asheville Highway, Worley Cove Road, Mystic Meadows, Pisgah Creek Bridge, Spring Meadows, Stamey Cove, Upper Crabtree Road, Riverside Road and Wells Road.
"All of those roads have weather impact. They're either closed, impassable or compromised. And so that's what we're contending with as we consider a school opening. Many of our roads have taken on some type of damage," said Putnam.
Administration said they could not determine how many students are affected by road closures because many students are now staying in different locations. Many had to be evacuated from homes that were damaged or destroyed.
How to help
According to Nolte, there are two avenues for people wanting to provide support to Haywood County Schools. People can provide monetary support through the Haywood County Schools Foundation under Tropical Storm Fred Relief. That money will be used for things like feeding restoration workers, purchasing supplies, materials and services related to restoration.
"We know that if we get the FEMA designation, which we think might be coming, there will be many things that that will not reimburse us for," said Nolte.
For people wanting to give hands-on help, Nolte recommends making direct contact with schools that have sustained damage.
Plan moving forward
Despite damage sustained to certain Haywood County Schools properties, and roads across the county, school reopened for in-person learning at all locations except for Central Haywood High School.
"We know that that will not be a perfect endeavor," said Nolte. "Those of us who have been through floods like this in the past, know that we are at the beginning of a very long haul and there is a lot of work to be done by a lot of people in the coming weeks and months."
Though the school board questioned the ability of all students to return to school on Monday, members agreed with administration that a return to some sort of normalcy would be best for most students. Administration stressed the importance of support and flexibility for students and staff that have been impacted by the flood. Absences will be excused and missed days related to promotion will be waived. Supplies, materials and additional tutorial help will be available as needed.
According to Assistant Superintendent Jill Barker, the process for reopening Central Haywood High School will look different. Because the building will be unavailable until repairs are complete, Principal Wendy Rogers plans to begin preparations for temporary virtual learning. Rogers and her staff began distributing ChromeBooks to students on Monday, Aug. 23, and began virtual instruction Wednesday, Aug. 25. Teachers will report to the education center in Clyde to provide instruction.
FEMA disaster declaration
According to Nolte, FEMA disaster declaration would be helpful in the recovery process. Both Nolte and Putnam, as well as school board members, have been in contact with U.S. Representatives and have met with Gov. Roy Cooper to urge them forward in doing what they can to garner a FEMA disaster declaration. The official request for disaster declaration must come from the governor of North Carolina.
"For those of us that unfortunately have gone through this before, back in 2004, the reality is that you have to spend the money to get reimbursed. And to spend money, you have to have money. And so that's one thing that I really wanted us to get ahead on is the fact that for this kind of money, we would need to have some type of legislative aid in the door, some type of action from our legislative delegation," said Nolte.
Putnam said the school system is currently working through all of its available funding sources. The department of insurance has been in Haywood County to assess the damage and preliminary reports suggest flood insurance will not cover all of the damage. Putnam said it will also look to local, state and federal funding.