Archived News
Haywood County Schools has $10.5 million in flood damage
Wednesday, September 15, 2021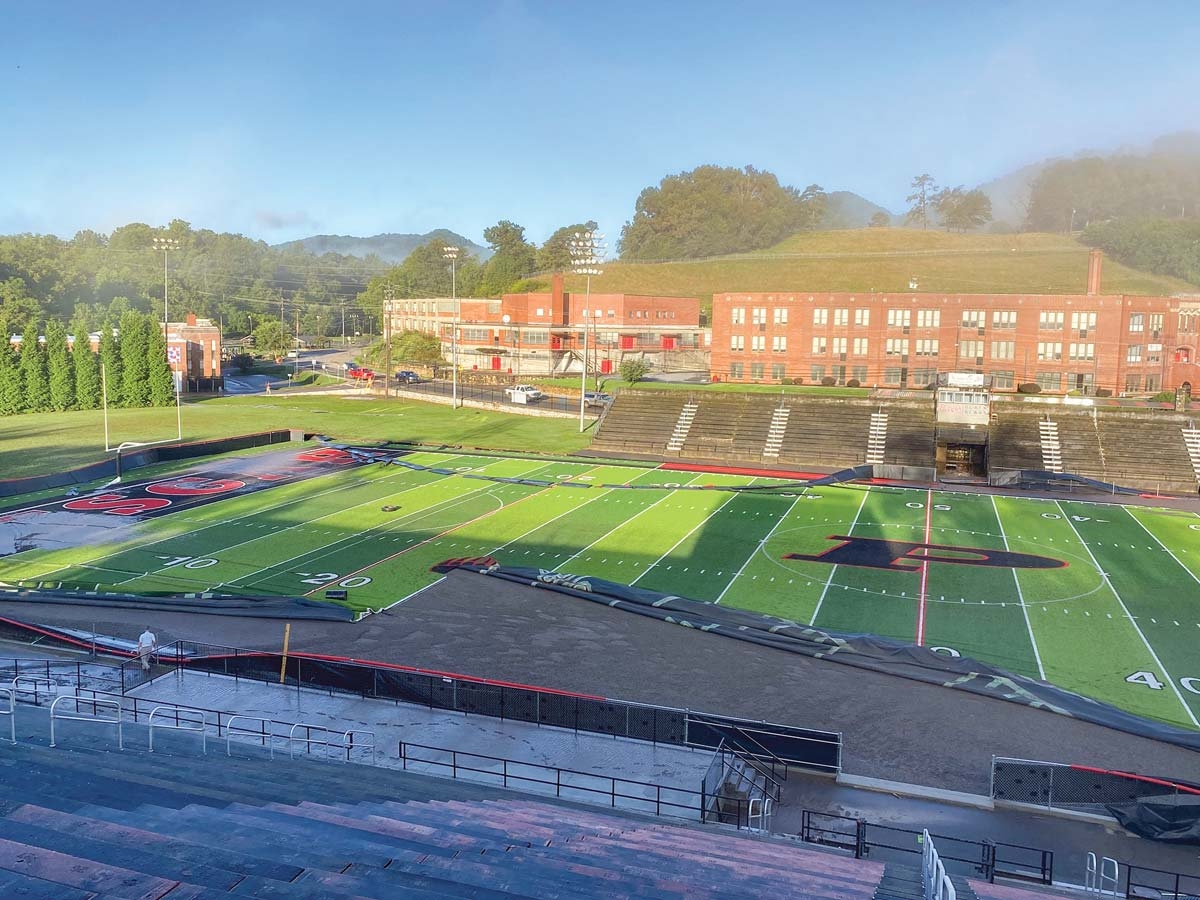 The AstroTurf was damaged at Pisgah Memorial Stadium following Tropical Storm Fred. Greg Boothroyd photo
Beginning Sept. 20, students at Central Haywood High School will return to part-time in-person learning. These students have been learning remotely since flooding from Tropical Storm Fred caused severe damage to the school building in Clyde.
Because Central Haywood teachers are working out of the old Academy Building at Waynesville Middle School, there will only be enough room for half the students at one time. One group of students will attend school Monday and Tuesday, the other group will attend Wednesday and Thursday, and Friday will be a remote day for everyone.
Administration is adamant about getting these students back in the classroom, especially after reviewing test scores from the 2020-21 school year. Haywood County ranked 10th among 115 school districts in North Carolina, and school administration attributes this high placement to returning to in-person learning early, five days per week while many other school districts remained remote.
According to Superintendent Dr. Bill Nolte, on average there was a 20-point difference in math scores between students who were in-person and students who were remote only.
"We just feel like we need them in-person as much as we can get them. A little now and maybe more later," said Nolte.
According to Associate Superintendent Dr. Trevor Putnam, Haywood County Schools has insurance that will cover restoration at Central Haywood High School with a $25,000 deductible. Putnam has been told by a FEMA representative that it will pay that deductible "once proper paperwork occurs."
For the athletic fields that were affected, insurance will cover $427,000 for the AstroTurf and $750,000 for fencing and equipment for all schools and fields combined.
"FEMA representatives have made it very clear to us that if we proceed in any way without their approval at any site affected by the flood, that Haywood County Schools stands not to be reimbursed," said Putnam.
The budgetary quotes for restoration and repair for Central Haywood High School are $5,065,000; for Pisgah High School softball field, $846,666; Pisgah High School baseball field, $1,319,982; Pisgah High School Football field, $2,256,945; Canton Middle School baseball field, $897,038; Canton Middle School softball field, $95,000; Tuscola High School softball field, $525. The grand total for all these repairs is $10,481,156, over $9 million of which will not be covered by insurance.
"Those are budgetary quotes," said Putnam. "They can be lower, they can be higher. We always work to find the most cost-effective and quality work that we can find. So we hope it's lower, but a little disclaimer, it could be higher."
According to Putnam, FEMA will be able to pay some if not all of the difference between what insurance will pay and what the actual damage is. Because North Carolina has not passed a budget, it is unclear whether there will be state funding for flood recovery.
"We will know a lot more when the state budget is passed," said Nolte.
In order to move forward on repairing the Pisgah football field and stadium, more tests are necessary to determine whether or not the stands are safe for occupancy. The AstroTurf cannot be repaired or replaced until the stands have been determined safe, or not, and repaired, if necessary. Additionally, tests are needed to determine whether or not the drain field under the AstroTurf is still up to standard or needs to be repaired or replaced.
Soil tests, surface and subterranean, are being done by Mountain Environmental to make sure there are no toxins. After those tests are complete, if they come back negative, repairs can begin. Surface tests have come back negative, a good sign for lack of contamination.