Archived News
Division runs deep over Biden's domestic agenda
Wednesday, October 27, 2021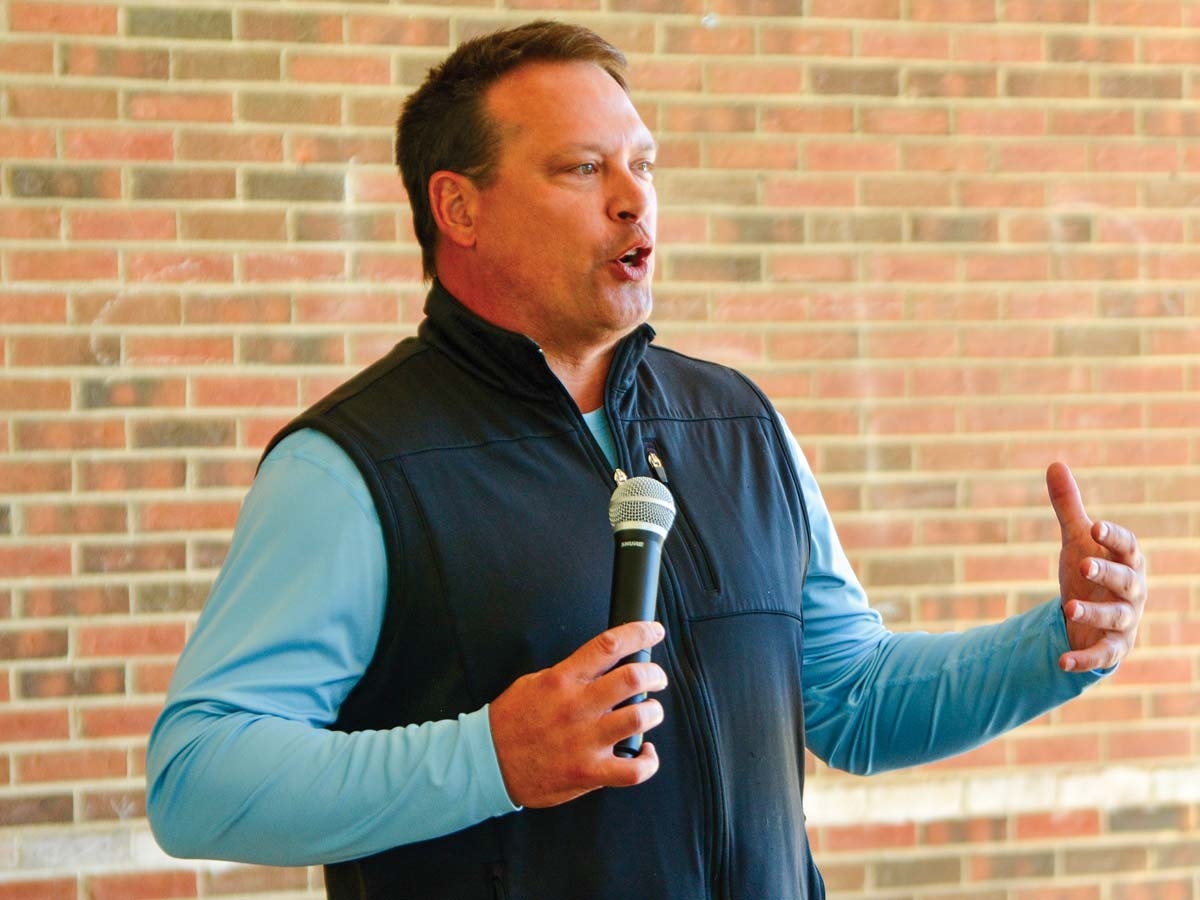 Former NC-11 Congressman Heath Shuler addresses a Democratic rally on Oct. 23. Cory Vaillancourt photo
Since his election last November, President Joe Biden has spent a lot of time — and untold political capital — pursuing a sweeping domestic agenda.
Although these programs, like the child tax credit and his "build back better" plan do contain some attractive items like help for working families and badly-needed infrastructure improvements, the sustainability of the massive new debt associated with them has given many elected officials — and even some Democrats, like Sen. Joe Manchin (D-WV) and Kyrsten Sinema (D-AZ) — cause for concern.
With some Democrats on the fence, it shouldn't come as a surprise that most Republicans remain adamantly opposed.
"I prefer to refer to Biden's agenda as the 'build back broke' agenda, because people are beginning to remember how broke they were under Barack Obama and Joe Biden the first time around," said Sen. Marsha Blackburn, (R-TN). "You can't have a three and a half-trillion dollar bill, which is really a $5 trillion bill they say is not going to cost anybody a dime, and have people believe it."
Blackburn spoke to The Smoky Mountain News at an Oct. 22 fundraiser in Asheville hosted by the NCGOP's 11th Congressional District leadership. With her was U.S. Rep. Madison Cawthorn, who said he felt that the good things in Biden's infrastructure bill didn't outweigh the bad.
"I won't say that every single thing in this bill is bad, but I will not say yes to the 90% of it that is just basically full-on socialism only to gain 10% of the things I believe are actually beneficial," Cawthorn said. "I mean, you see what Americans are going through when they go to the gas pump. The inflation we're seeing in this country right now is destroying middle-class families."
Tennessee Republican Sen. Marsha Blackburn has called Biden's agenda "dangerous and costly." Cory Vaillancourt photo
A day before the Asheville fundraiser, 11th District Democrats held a press conference also in Asheville, touting Biden's build back better agenda. Joined by NC-11 Dem Chair Matt Ballance, North Carolina Democratic Party Chair Dr. Bobbi Richardson and Asheville Mayor Esther Manheimer, Rep. Brian Turner (D-Buncombe) voiced support for Biden's plan.
"I would like to see many of these programs become permanent. I think that we've really seen that if you just look at the number of families that have been really lifted out of poverty due to the expanded child tax credit, that's one of the great things about the programs," Turner said. "I think that once people realize not only what government can do for them, but how little it has been doing for them, they will want to see these programs continue."
Right in the middle is former NC-11 Congressman Heath Shuler, known for being a more conservative Democrat than many of his fellow party members — especially fiscally. Shuler made his first public political appearance since 2012 at a fall rally, hosted by Haywood County Democrats on Oct. 23.
"At some point we have to start paying for all of this," he said. "We talk about taking care of people, and sometimes that's going to come down to individual people taking care of our neighbors. We don't always have to rely upon the government to do so. We cannot continue to just continue to rack up trillions of dollars in debt."
Shuler also raised the specter of interest rate fluctuations having a major effect on existing debt, saying that an increase of just a few points would end up making interest payments the single largest line-item expense in the federal budget.
While that specter may never materialize, another one certainly will — Biden's domestic agenda will be at the forefront of the upcoming 2022 elections.
"I think the most important thing that the Democrat Party can do is open its doors back up to a larger group of individuals," Shuler said. "We lost rural America quite significantly in the last election, in some cases 80-20 or 70-30."
To ensure that margin continues, Republicans will make the case that the Biden administration's goals are de facto socialism, and not in the long-term interest of Americans.
"Joe Biden's polling numbers are down, he's at 37%. I think Vice President Harris is in the 20% [range of] approval ratings, and the American people are making their opinions known," Blackburn said. "They're going to continue to do that. And we have a great story to tell of hope, opportunity and freedom for all. And we're going to be out there telling that story."
Asheville's Democratic Rep. Brian Turner compared Biden's infrastructure plan to the TVA. Cory Vaillancourt photo
Turner, however, sees a different side to that story.
"In times of crisis, our country has really reached down and worked to make sure no one gets left behind," he said. "We talk about the New Deal and particularly in Western North Carolina, we talk about the TVA. I don't think people were complaining about that being some sort of socialist program, the fact that it electrified basically the Appalachian spine. I think that is a red herring to call it to call it 'socialism.' I think that we have seen a contraction of the social safety net and of government programs over the past decades, and this is actually just more of a course correction."