Archived Outdoors
Smokies project will require filling in small wetland
Wednesday, December 22, 2021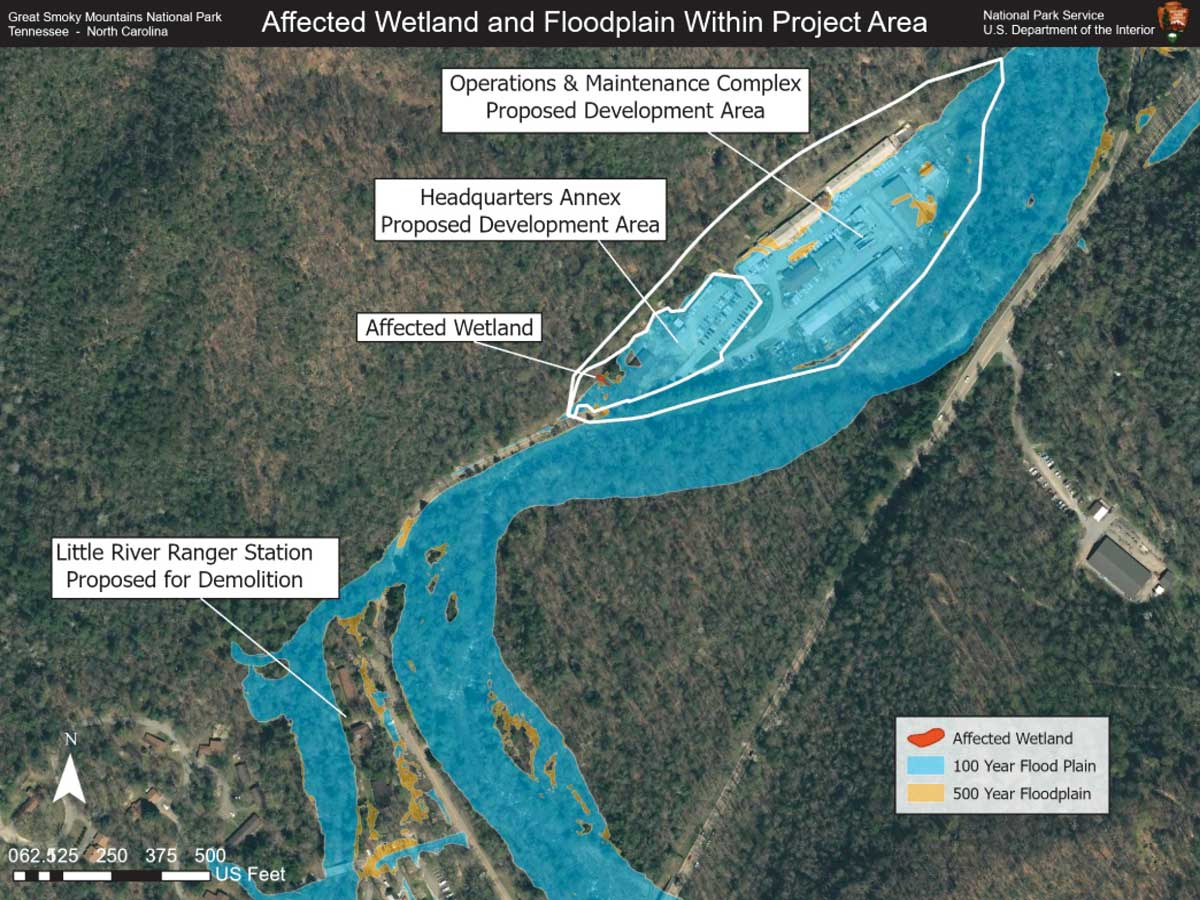 The Great Smoky National Park is planning construction and expansion of its aging headquarters facilities. GSMNP map
The Great Smoky Mountains National Park plans to build an annex to its existing headquarters building, and a comment period open through Jan. 9 will take input on the results of a study investigating the project's likely impact to wetlands and floodplains.
The project area would occur within the 100-year floodplain and require filling in a small wetland measuring 0.004 acres, according to the Statement of Findings for Wetlands and Floodplains in the Sugarlands area near Park Headquarters. The buildings would be elevated so that the base rises above the 500-year floodplain level, and the wetland is "likely not large enough to provide substantial wildlife habitat," though it might provide "marginal seasonal habitat" for insects or amphibians and "likely provides a small amount" of value for groundwater recharge, water filtration and flood storage.
"Given its small size, disturbed state and location, this wetland likely provides minimal recreation or aesthetic value," the document reads. "Filling of this wetland would result in loss of wetland functions and values, but the impacts would be negligible to minor."
Constructing stormwater retention basins on-site is expected to mitigate the loss of wetland functions, the statement concludes.
The park plans to build a new Park Headquarters Annex to supplement inadequate workspace in the historic Park Headquarters Building and the Little River Ranger Station. A new Sugarlands Operations and Maintenance Complex is also proposed to replace outdated and inadequate facilities within the existing Sugarlands Maintenance Area. All construction would take place within the 10-acre Sugarlands Maintenance Area, which consists of developed and previously disturbed land. Existing, outdated buildings would be removed to accommodate new construction.
For full documentation and a commenting portal, visit parkplanning.nps.gov/sugarlandsconstruction. Comments can also be delivered via postal mail to Great Smoky Mountains National Park, Sugarlands Wetlands and Floodplains Statement of Findings, 107 Park Headquarters Rd., Gatlinburg, TN 37738.