Archived Outdoors
Along for the ride: Cataloochee thrives amid warm weather, pandemic adaptations
Wednesday, January 19, 2022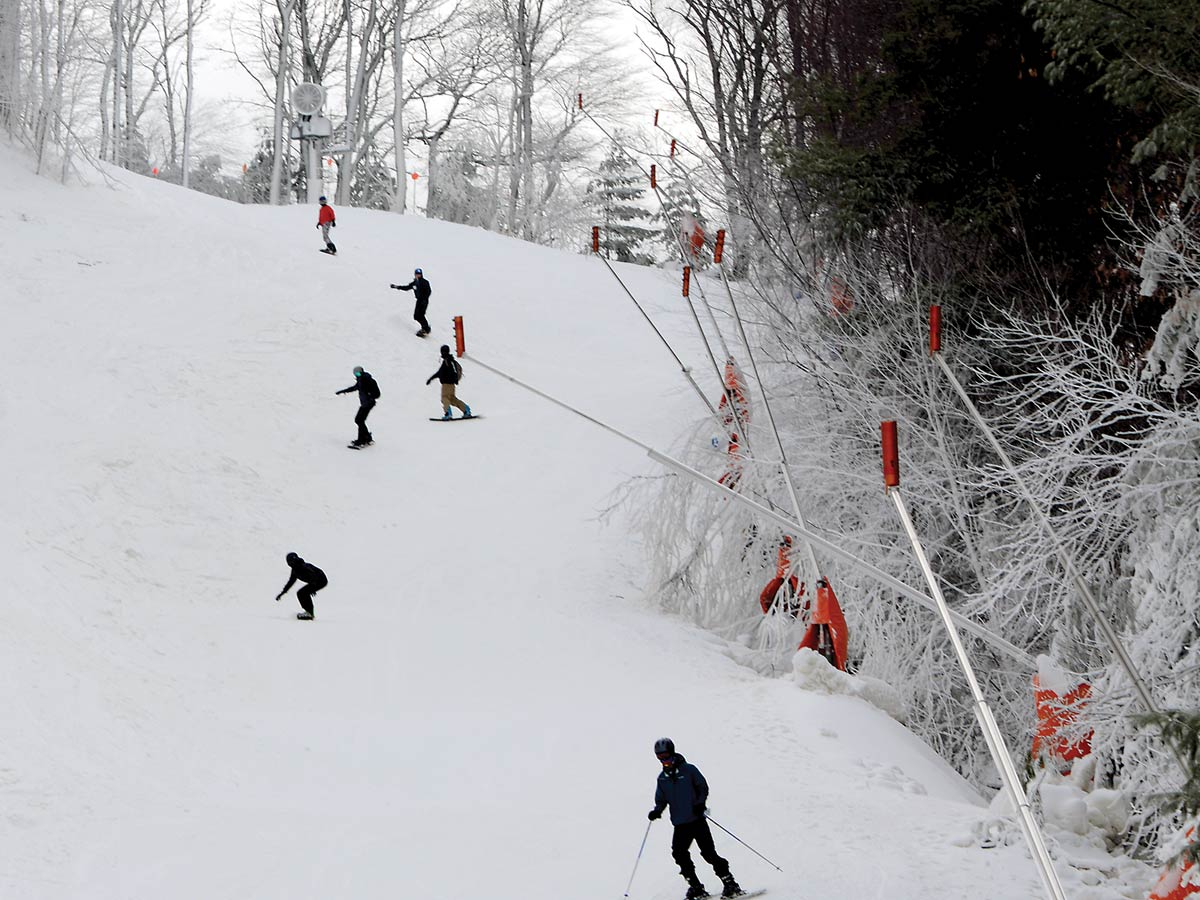 Riders sweep down Upper Snowbird at Cataloochee Ski Area. Holly Kays photos
Sun is shifting in and out of the clouds covering Cataloochee Ski Area on Friday, Jan. 14, as I catch a ride to the top of Easy Way with Greenville, South Carolina, resident William Oliver. It's my first run of the day, but he's been riding for a while now — and after the warm weather and closures that plagued eastern ski resorts in December, he's enthusiastic about today's snow report.
"It was really frustrating looking at the resorts not being able to get snow, not being able to get open," Oliver said. "So once they opened — I mean, today's a perfect example. A lot of snow, a reasonable crowd, but no long lift lines. It was the same at Sugar (Mountain Resort) last weekend so yes, it's turned out pretty good if we just keep it."
At 67, Oliver is only three years into his skiing career, having taken up the sport later in life as a way to connect with his son. Now, Maggie Valley's Cataloochee is an integral part of his experience in the winter months.
"Conditions are great," he says before gliding off to the rest of his day. "No icy spots. There's enough of the snow they made that that makes it really, really nice."
I ski off to my own downhill adventure and quickly find myself in agreement with Oliver. It's 32 degrees outside, colder higher up the mountain, with a base more than 3 feet deep. The loose snow covering the harder-packed base layer makes for easy, exhilarating skiing as I shoot down the mountain.
Warm-up complete, I head off in search of a higher lift. It's been two years since I've worn downhill skis, but the proverb about never forgetting how to ride a bike applies to skiing too. In a couple runs, I'm sweeping down Omigosh with confidence, savoring the sensations of clean air whisking my cheeks, skis cutting the snow and speed gathering into a controlled exhilaration that carries me safely down the mountain, again and again and again.
It's a perfect day at Cataloochee, an enjoyable and also surprising discovery given the situation on the mountain just a couple weeks earlier. After opening for the season Nov. 20, the ski resort battled warm weather throughout December that ultimately forced it to close from Dec. 29 through Jan. 3 — a week when many Americans were on vacation and hungry for a day on the slopes.
A view of Cataloochee Ski Area spreads out below the Omigosh lift line.
Blowing snow
Now in its 61st season, Cataloochee Ski Area has been in business long enough to see plenty of ups, downs, opportunities and challenges to its Haywood County operation and to the industry overall, but the last few years have thrown some startling curve balls.
A warming climate is one such challenge. Globally, the last seven years have been the hottest on record. On Christmas Day 2021, the National Weather Service logged a high of 71 degrees, a record temperature for Dec. 25 that topped the previous record of 67 degrees — set just six years ago, in 2015.
But those stats don't worry Cataloochee General Manager Chris Bates, at least as it relates to the ski resort's viability. In fact, he said, despite warmer weather it's easier to stay profitable now than it was during earlier, colder years of the ski resort's history.
"I think in a lot of cases it's become easier because we've got a lot more equipment that lets us do the job today than we did 20 years ago," he said.
Snowmaking technology allows Cataloochee to dance with the forecast in ways it couldn't back then. The resort has invested millions of dollars in snowmaking equipment, and it employs an award-winning snowmaking team. Warm weather hurts, but Cataloochee can recover fast once cooler temperatures return.
"We can go from green grass to skiing in eight to 12 hours of snowmaking," Bates said.
Even with the Christmas week closure, Cataloochee is now on day 56 of skiing for the season.
"That's not a bad spot to be in," said Bates. On average, the resort offers 120-some days of skiing and snowboarding each season. "I think we'll hit that without a problem," he said.
Adapting for COVID
The COVID-19 pandemic is another challenge that has forced Cataloochee to adapt.
The resort is now in its third season since the virus arrived to the U.S. in early 2020. At that time, the resort responded by ending its season early, calling it quits on Sunday, March 15. But before the 2020-2021 season rolled around, Cataloochee developed a plan, and many elements of that plan are still in place now. The ski resort limits the number of tickets it sells each day to reduce crowding at lift lines, and it's removed indoor seating from the lodge. There's also a new air handling system in place that does four air changes per hour inside public buildings.
While planning and enacting those changes has been a challenge, Bates stopped short of saying they've negatively impacted the business.
"Outside of the health issues, I don't see that COVID has been a big negative (to Cataloochee)," he said.
In particular, he said, limiting daily ticket sales isn't something that the resort would have ever put in place outside the demands of the pandemic, but the measure has proven so successful he plans to keep it in place even after the pandemic itself fades away.
"Instead of having a business that peaked on Saturday, now we have a business with less people here on Saturday but more people here other days of the week," he said.
Limiting tickets hasn't negatively affected profits, he said, but it has positively impacted visitor experience and operational logistics.
"It's a lot easier to staff when you have a more steady supply," he said. "You know who's coming on days. It's easier to plan. There's a lot of good out of it. I'm not saying COVID's good. I'm saying COVID forced us to do things that we've learned from, that I think the net result is positive, and if COVID went away I wouldn't change that."
A skier enjoys a fast ride down the slopes.
Falling in love with skiing
The snow covering the slopes visible through the window of Bates' second-floor office when we spoke Jan. 14 was all the result of mechanical productivity, but a day later, clouds rolled in, snow fell, and by Sunday morning a thick blanket of new powder covered the entire mountain region.
Those lucky enough to have a ticket for Cataloochee last weekend got the once-in-a-blue-moon chance to ride down slopes buried under a full foot of natural snow, a strong enough dose of winter to make the absurdly sunny-and-70 days of December a distant memory against the ephemeral, unmatchable excitement of a mountain snow day.
And that, said Bates, is the mission Cataloochee exists to fulfill.
"It's all about getting people outside to enjoy a winter activity, and a sport that they may never have experienced before," he said. "That's what I look forward to — is the people coming in the first time and going out here and falling in love skiing like I did almost 50 years ago."