Archived News
Grant could bring new life to historic Waynesville springhouse
Wednesday, February 02, 2022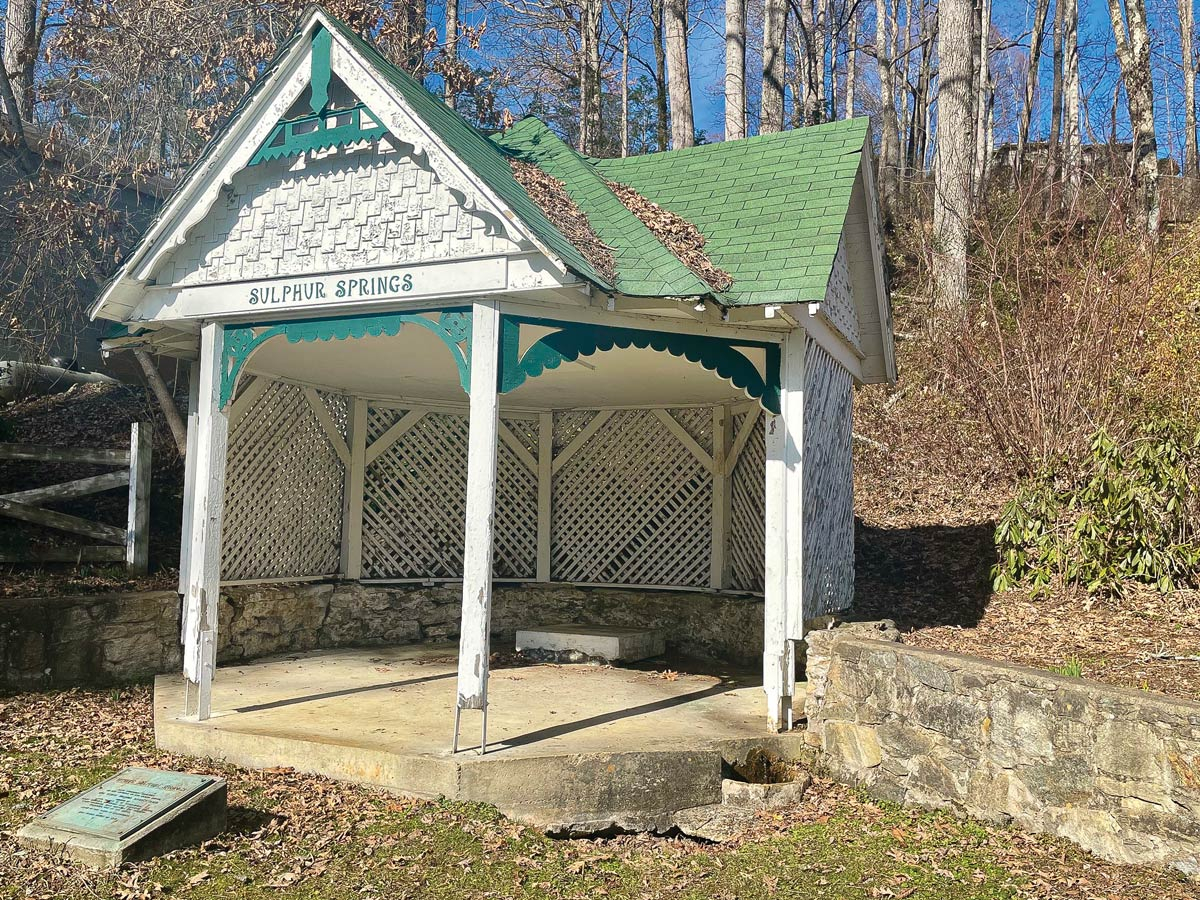 A gazebo protects the natural spring in Waynesville's Sulphur Springs Park. Cory Vaillancourt photos.
Today, almost nothing remains of Waynesville's majestic old Victorian-era hotel — except for some faded photographs and sepia-toned memories that linger in the minds of the region's oldest inhabitants — but recent action by the town's aldermen could go a long way in preserving what's left of a natural spring that was responsible for producing much, much more than cold, stinky water.
"It's just our roots, how we became who we are today," said Alex McKay, a local historian and honorary "mayor" of Waynesville's Hazelwood district. "I mean, Waynesville is a huge tourist destination and that property, as small as it is, played a huge part in that."
It all started in the early 1800s, when an enslaved person digging a drainage ditch discovered a natural spring not far off what's now called Sulphur Springs Road. It's first mentioned in print in the 1840s as being located on the property of James Robert Love. When Love's daughter married Col. W.W. Stringfield, they began to enlarge the old house on the property, turning it into a hotel.
Pamphlets beckon travelers to Waynesville's White Sulphur Springs Hotel.
"The Battles House on Main Street was the only hotel. We had no grand hotel. But they had that spring down there and I guess drinking sulfur water or taking a bath in it or, you know, rubbing it on you, they thought that had some benefits," said McKay.
Natural springs are thought to have a number of health benefits beyond the simple pleasures of relaxing in a pool of water, thanks to the minerals they contain. Calcium and sodium bicarbonate present in the water are good for circulation, and sulfur is good for skin disorders like dry scalp, eczema, psoriasis and rashes — even if it does smell strongly of rotten eggs.
Some natural springs are heated by geothermal activity far below the ground. The only natural mineral hot springs in North Carolina, clustered around the French Broad River in Madison County, have been used for hundreds, if not thousands, of years.
Others, like at Waynesville, run at a constant 57 degrees, but still offer many of the benefits of a hot spring.
Post-Civil War, as the Industrial Revolution drove more and more people to overcrowded, disease-ridden northern metropolises, the nation's ever-expanding rail network began bringing the wealthier among them on vacations to "health resorts" like Waynesville's White Sulphur Springs Hotel.
While writing their 1883 book , "The Heart of the Alleghanies," authors Wilbur Zeigler and Ben Grosscup visited the property and described the original hotel:
"The grounds are naturally adapted for a summer resort. A grand forest, principally of oaks, covers about eight acres of level ground, through which, with green sward on either hand, winds the road toward the hotel. The hotel is a large farmhouse, modeled and added to until its original proportions and design are lost. Near it, at the foot of a low wooded hill, is a line of cottages connected with the main structure simply by a graveled walk, which also leads to the Sulphur spring bubbling up in a stone basin within a small summer-house. There is a comfortable, healthy air about the hotel and its surroundings."

It's around this time that then-university professor and future President Woodrow Wilson is thought to have honeymooned at the White Sulphur Springs Hotel, shortly after marrying his first wife, Ellen Axson. Wilson was known to have had a vacation cottage in nearby Arden.
The original White Sulphur Springs Hotel burned down in 1892 and was replaced with a 45-room, three-story brick building on 50 scenic acres. This was probably the heyday of the hotel, as over the ensuing decades, it slid slowly into decline.
A postcard from the collection of Alex McKay depicts the springhouse as it would have appeared in the early 1900s.
During World War I, it was appropriated by the federal government to serve as a hospital for tuberculosis patients. Then, it became a vocational school offering woodworking and blacksmithing instruction. After that, it served as little more than a warehouse. Horses and chickens were kept inside at various points, and with the advent of automobile travel and motor hotels, the majestic old resort was torn down, likely in the 1940s.
By the 1960s, small tracts of land on the former grounds of the hotel had been parceled out and modern homes were constructed, leaving the site in the middle of a nondescript residential neighborhood on Waynesville's west side.
The springhouse that provided water to large boilers that would fill baths for guests on the upper floors and still survives to this day, in the form of a dilapidated gazebo on town-owned property. A large tree is also encroaching on its concrete foundation.
"The last time it was restored, maybe in the early '90s, it was under [Mayor] Henry Foy, but they just kind of slapped some shingles on it and repainted it and didn't do what was really needed at the time," McKay said.
That's all about to change, if the town is successful with its grant application to the Mib and Phil Medford Endowment Fund. The Fund makes grants for "beautification, streetscape improvements and other public amenities … for the purpose of enhancing economic prosperity, a healthy community and the arts for public enjoyment."
The Town's Historic Preservation Commission, of which McKay is vice-chairman, recently identified the springhouse as a priority for preservation. Aldermen gave the OK to town staff to apply for the grant, which may require as much as $3,000 in matching funds from the town.
A gazebo protects the natural spring in Waynesville's Sulphur Springs Park.
"It's such a small building and in the scope of everything, it's a very small amount of money to spend preserving it," McKay said. "I mean, if they're just gonna let it fall down, I'll buy the thing and fix it up right."
The revitalization of the springhouse could also serve as a springboard to higher visibility for the little-used Sulphur Springs Park, but McKay thinks there's value in preserving it for future generations.
"I guess ultimately what we would like to do is to have it be a teaching tool for local schools, to bring students down there and teach more localized history," he said. "We've been working on this for eight years and it's never really took off, but that's what I would like to see. I'd like to see it become a teaching tool for local kids and locals."