Archived News
Jackson, Macon schools address pre-K need
Tuesday, February 08, 2022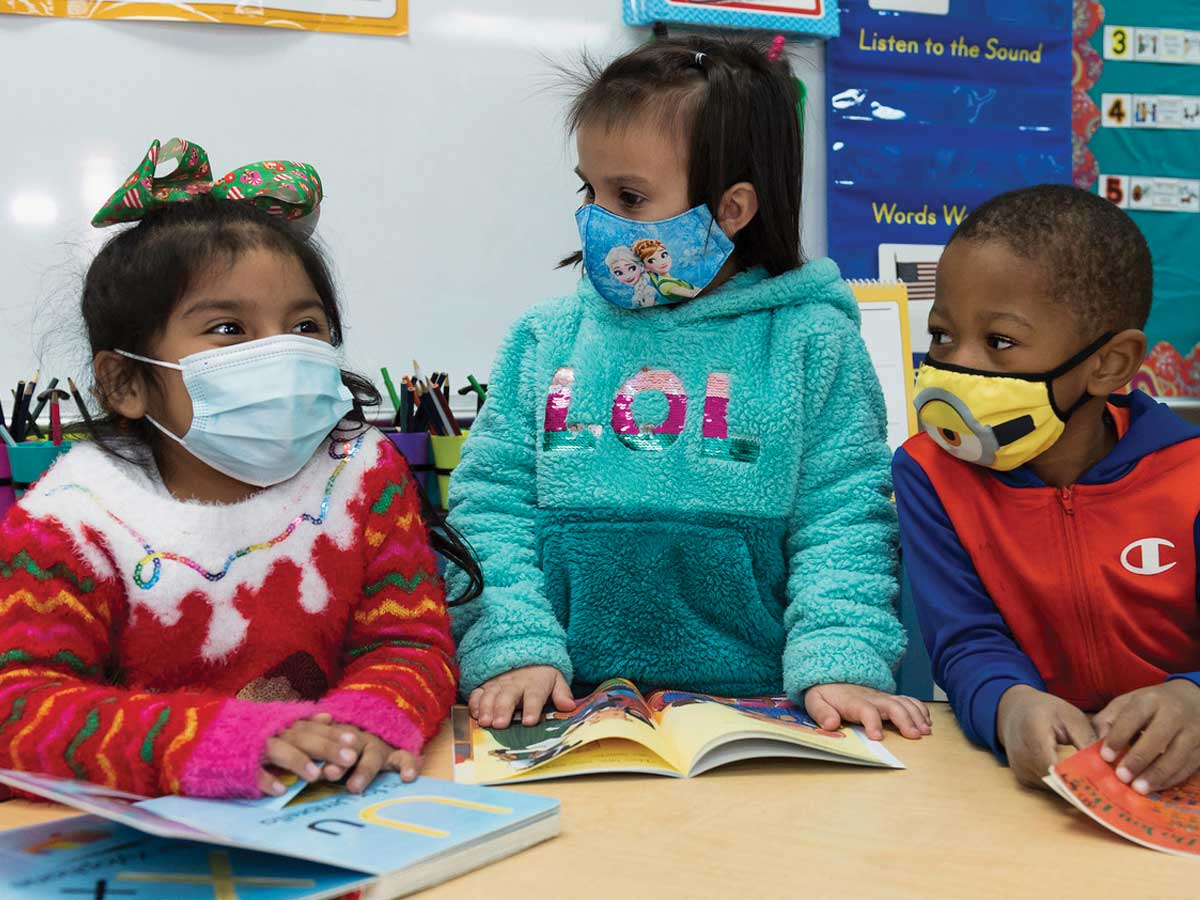 Students in the preschool classroom at Smokey Mountain Elementary School enjoy sharing books with each other. Jackson County Public Schools will soon add new preschool classrooms at Cullowhee Valley, Scotts Creek and Blue Ridge School thanks to a grant from Dogwood Health Trust.
Families in Jackson and Macon counties are set to see a bump in pre-K capacity as both counties work to expand their programs in the coming months.
Jackson County Schools will double its pre-K opportunities, adding one classroom each at Blue Ridge School, Scott's Creek Elementary and Cullowhee Valley School.
"Early literacy is so important and this will allow us to expand our opportunities for kids and give them that exposure early on that they're not getting if they're in the home or just simply in a childcare center that doesn't offer preschool type opportunities," said Jackson County Schools Superintendent Dr. Dana Ayers.
In December, the school system received $236,000 in grant money from Dogwood Health Trust to add pre-K classrooms at Scott's Creek Elementary and Cullowhee Valley School, neither of which currently offer a pre-K program.
"Opening those two classrooms will pull students, or potential students, who should go to Scotts Creek or Cullowhee Valley so that they'll be in a preschool program at their home school," said Ayers. "And it'll open up additional slots for Fairview families."
The second grant came from the Blue Ridge School Education Foundation for just over $115,000. This money will go towards an additional pre-K classroom at Blue Ridge School in Cashiers. The additional classroom will provide the first pre-K classroom for 3-year-olds in Jackson County Schools.
"Because Blue Ridge School has the physical space right beside their current preschool classroom, it's easy to add an additional classroom there with some modifications to that classroom," said Ayers. "We're fortunate that they already have the appropriate playground for preschool children, and they have a wonderful resource in their experienced teacher there, Wanda Crisp. I'm looking forward to adding an additional classroom so Wanda can work with the teacher, and the students that we put in there too."
Currently, Jackson County Public Schools serves 54 students through its preschool program. With additional classrooms added by fall of 2022, JCPS will be able to serve about 105 preschool students across the district. According to Ayers, the school system plans to hire a certified teacher for each of the three additional classrooms.
"The earlier we can expose children to structured learning environments, to early literacy opportunities, the better they're going to be in the future as students," said Ayers.
Macon County Schools is looking to expand its pre-K program through two additional preschool classrooms at Highlands School.
"We want to make sure that we have space for pre-K because that's a serious need everywhere, especially in Highlands," said Brooke Keener, Macon County Schools Preschool Director, during a December school board meeting.
Administration has been working with AHEC — Advancing Highlands Education Committee — to explore existing buildings, current programming and how best to accommodate new priorities in Highlands. AHEC completed a study looking at the need for preschool programming in Highlands. Keener presented information to the Macon County Board of Education during its December meeting that showed a clear need for more preschool opportunities in the county.
"The cost in Highlands is $600 [per month], and that's the lowest price," said Keener. "Just think of the exorbitant costs associated with some of these programs. There is only going to be one place left up there and there are multiple years of waitlists. So, it's very hard to attract people who are young and starting families and just starting a career because there's nowhere to go up there. The problem's not as acute down here but it's a big issue."
AHEC is contracting with Novus Architects, the same firm that completed the addition at South Macon Elementary, to look at remodeling existing spaces versus new construction, and seeing what can be done immediately. The plan is for Novus to have a budget to Macon County Schools by Feb. 15, so MCS knows what it needs to ask for in its capital outlay request from Macon Commissioners.
"If we want to continue to attract and retain young families in our area, it's [pre-K programs] a need that we're going to have to address," said Keener.