Archived News
Mountain Synagogue: Jewish community growing in WNC
Wednesday, February 23, 2022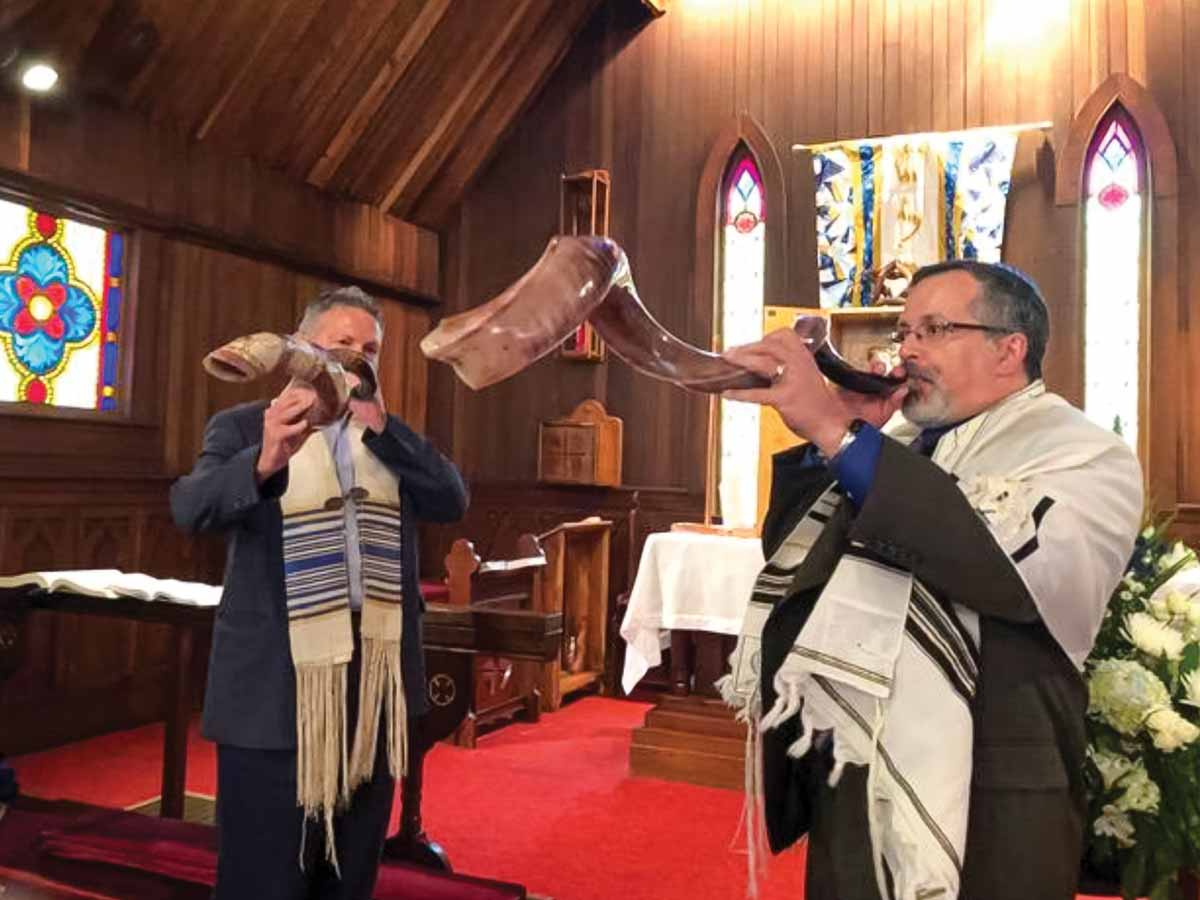 Synagogue leaders sound the shofar during service. Mountain Synagogue photo
There aren't many synagogues in Western North Carolina, just one west of Asheville. Mountain Synagogue in Franklin is a community of Jews practicing their faith in the All Saints Episcopal Church of Franklin. And as with most Jewish communities around the world, safety is top priority.
With approximately 150 members, the congregation sees a substantial influx of practitioners during the summer months when many seek shelter from the sweltering heat of Florida in the cooler mountains of Western North Carolina. While the seasons may bring a differing number of people through Mountain Synagogue's doors, the congregation is growing.
"We're growing," said Harvey Morse, President of the Board of Directors for Mountain Synagogue. "Not in leaps and bounds, but we are definitely growing and we are very happy to see that happen."
According to Morse, while some new members are completely new to Judaism, many are adults who are reentering the faith of their childhood.
"We are seeing a lot of adult Bar and Bat Mitzvahs," said Morse. "Which is the coming of age that normally takes place when a person turns 13. We are having a resurrection of people that were unable to get Bar or Bat Mitzvahed when they were 13, but now have decided to reconnect with Judaism and are going through the training and everything else to accomplish that later in life."
Morse sees two reasons for the trend. For one, as people age they tend to want to reconnect with their heritage and religion — deepening their understanding of self. On the other hand, people are aware of the latest surge in anti-Semitic sentiment and violence around the world.
"They just wanna be able to have a voice in what is happening rather than just being a passive member," said Morse. "They wanna be proud of their religion and their heritage. So they take the extra steps to learn what they need to do religiously and ritually to become Bar or Bat Mitzvahed."
That surge in anti-Semitic sentiment and violence has not spared the Jewish community in Western North Carolina. According to Morse, during the pandemic a synagogue in Asheville was hit with flyers saying that Jews were responsible for COVID-19.
To protect from this atmosphere of hatred, Morse and other Jewish leaders are part of the Western North Carolina Jewish Security Task Force. Alan Escovitz serves as the convener for the task force, which is made up of representatives from Mountain Synagogue in Franklin, three synagogues in Asheville and one in Hendersonville. Both Escovitz and Morse serve on security committees at their respective synagogues in addition to being part of the task force.
For security reasons, the men were reluctant to share too much information regarding the task force.
"We share information among our group, have monthly meetings, and we address issues of anti-Semitism in our communities and security and safety issues," said Escovitz. "And so on that side we've been doing training online with our group, and the larger communities too."
"We are also connected to the national task force that looks at anti-Semitic issues on a national and international level," said Morse.
For him, part of this work involves daily updates as to what anti-Semitic events occurred the previous day. That's how much of it is going on, he says.
"This morning, I read an article that Jewish people in Virginia were forced to go to a Christian prayer meeting," said Morse. "They were not allowed to leave, and it was mandatory. I mean, aside from the legal or illegal issues of forcing people to attend a religious meeting of any sort of any type using state school funds, these are the things that are happening."
Anti-Semitism isn't new, but it has been on the rise in recent years. According to the Anti-Defamation League, which tracks anti-Semitic sentiment and action in the United States and abroad, 2019 and 2020 were, respectively, the highest and third-highest years on record for cases of harassment, vandalism, and assault against Jews in the United States since tracking began in 1979.
"You get people who deny the Holocaust, and I had family who died in the Holocaust," said Morse. "It's hurtful and unnecessary. And then you get these skinheads or Nazi followers that dislike Jews, dislike black people, and it just, it's terrible."
The task force serves as a buffer between threats of harassment and violence, and the faith communities where so many find spiritual and social connection.
"Our role is just to make sure that people can pray in safety and in a secure environment and not have to worry about the outside when they're there to pray to God," said Escovitz.
Morse admits that the concern for his community's safety does weigh on him a great deal. But Morse spent his career in law enforcement. He was born into a Jewish family and has been practicing his entire life. His faith is something he is passionate about, and something from which he gains a lot of value.
"It gives me a sense of belonging to an affinity group of other Jewish people," said Morse. "It's a good feeling. I mean, for somebody who believes in God, the existence of God, it's a warm feeling, and all the tenets of Judaism and Christianity are to better mankind. It's not that one is better than another, or that one is really different than another. The average person who believes in God, believes in living their life properly and doing the right thing regardless of religion."
Each Saturday, Morse gathers with his community in the All Saints Episcopal Church in Franklin, where the group has been practicing for over 45 years. The relationship between the congregations is one of love and understanding. According to Morse, parishioners from both communities regularly attend functions and outings of the other organization.
"It's just an unbelievable relationship that we have with them," said Morse. "We do things together, go places together, learn together, and it's wonderful. It's a very unique relationship."
Leave a comment
1

comment
God bless, protect, and make His face to shine upon you folks!

Wednesday, 02/23/2022