Archived News
WCU sets new legislative goals
Wednesday, March 09, 2022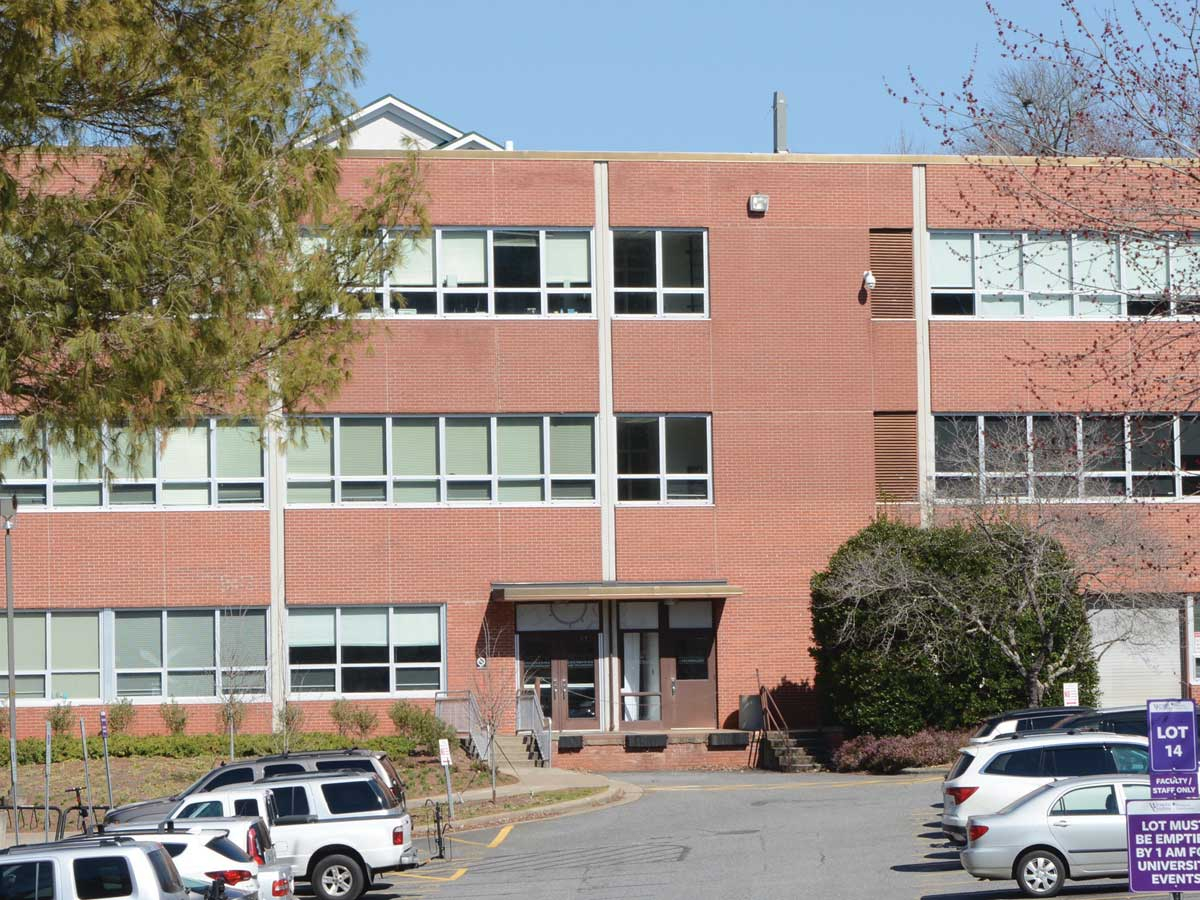 Built in 1968, the Belk Building, where the College of Engineering and Technology is currently housed, is no longer adequate for a 21st-century engineering program, Western Carolina University administrators say. Holly Kays photo
Following November's passage of the "best budget in a decade" for the University of North Carolina System, Western Carolina University has a clean slate for a new wish list. Chancellor Kelli R. Brown presented trustees with the highlights March 4 — an expanded engineering program, salary increases for employees and merit scholarships for in-state students.
"WCU's next legislative agenda reflects the priorities that we must address in the months and years to come," Brown said. "It is imperative that we position WCU to meet the educational needs of our region and state."
For years, WCU's conversations with legislators were a continuing refrain of requests for money to replace its aging steam plant and build a new natural sciences building to succeed the decrepit monstrosity whose many faults included an air system that caused the structure to vibrate so significantly that sensitive scientific instruments were rendered useless. Eventually, those efforts yielded fruit. Now the new Tom Apodaca Natural Sciences Building is open for classes and the steam plant replacement scheduled for completion in October.
Engineering, the new 'steam plant'
In a July tour of campus with UNC System President Peter Hans, university administrators joked that the Moore Building would be the "new steam plant" as they announced their intention to seek funds to renovate the nearly 100-year-old structure, the oldest on campus. But in November, Gov. Roy Cooper signed a budget that included $35.5 million for those renovations, as well as funding for all the other items on WCU's legislative agenda at the time.
"We must now shift our attention to one of the region's greatest educational needs —engineering," Brown said. "WCU is home to the only public college of engineering in North Carolina west of I-77."
That's an area that includes nearly a third of North Carolina's 100 counties, Brown pointed out.
A document trustees received outlining the university's new legislative priorities pointed to aircraft engine manufacturer Pratt & Whitney's 2020 announcement that it intends to open a manufacturing facility in Buncombe County. Initial estimates point to a payroll of more than $55 million and the need to hire 800 employees with an engineering background, according to the WCU document.
"Business and industry in Western North Carolina are crying out for more engineers, and WCU is well positioned to deliver," Brown said.
However, WCU's existing College of Engineering and Technology is housed in the 1968 Belk Building, whose age and deferred maintenance issues render it "obsolete" for a 21st-century engineering program, the document says.
As a result, WCU is requesting $80 million — along with $2 million more for planning — to either conduct a large-scale renovation of the existing building or build a completely new structure. It also wants to expand its existing engineering programs, including adding robotics and automation concentrations. WCU is asking for $3.5 million to renovate and expand its labs and purchase new equipment, plus another $3.5 million in recurring funding for instructional and professional support staff.
"You will likely hear engineering become the new 'steam plant,' so get used to it," said Brown. "Engineering, engineering, engineering."
Higher salaries, more scholarships
WCU will also continue to seek higher salaries for its faculty and staff. The 2021 state budget made progress on what has been a perennially challenging issue for WCU, providing a 2.5% raise for 2021-2022 along with bonuses of up to $1,500 and another 2.5% in 2022-23. The consensus on campus is that it's a step in the right direction, but far from enough.
"University employees are thrilled that the state is giving us a raise," Faculty Senate Chair Laura Wright told trustees during their Dec. 4, 2021, meeting. "But — you knew I was going to do this — this is a great start and only a start. As my economist colleagues let me know, over the next two years, this 5% increase will be lower than inflation."
In addition to the state-funded salary increases, said Brown, WCU allocated $1.7 million of its own money to address pay issues. But it needs more help from the legislature. According to the legislative priority document, the school continues to feel external pressure from other universities and private sector businesses who seek to hire away qualified faculty and staff. In some areas — including health programs, campus police, information technology and housekeeping — turnover is compromising essential campus services.
Therefore, WCU is requesting salary increases for its employees "at a rate that is equitable with other state employees."
The school also wants help for its students — $3 million in recurring funding to fuel 25 scholarships for first-time, full-time, in-state students.
"WCU has been at the forefront of college affordability and access," said Brown. "To maintain that position, we must have the means to provide students with a high-caliber academic profile that it's an attractive option to study here in Western North Carolina."
Other schools are luring away WNC's best and brightest with prestigious scholarships, out-of-state waivers and other significant award packages. University leadership has heard from prospective students who say they would have gone to WCU if they hadn't received such an attractive award package elsewhere.
For example, Eastern Tennessee State University offers in-state tuition to students in certain counties bordering Tennessee and even allows them to be considered for in-state scholarships.
To combat such challenges, WCU wants to create 25 annual scholarships for high-performing students that would cover tuition, fees, room, board, books, supplies, travel, summer opportunities, internships, study abroad opportunities and a university laptop. Candidates would need to have a weighted high school GPA of 4.0 or higher, as well as demonstrated leadership and service. While at WCU, they would be required to maintain a 3.5 GPA and participate in leadership and service opportunities.
"The more students in this tier of academic success who choose to study in Cullowhee, the more likely they will be able to remain in the area after graduation, offsetting the brain drain that has plagued the region and the environments in which the business and industry have been forced to recruit employees from other locales," said Brown.