Archived News
Developers discuss potential Bryson City airfield plans
Wednesday, March 30, 2022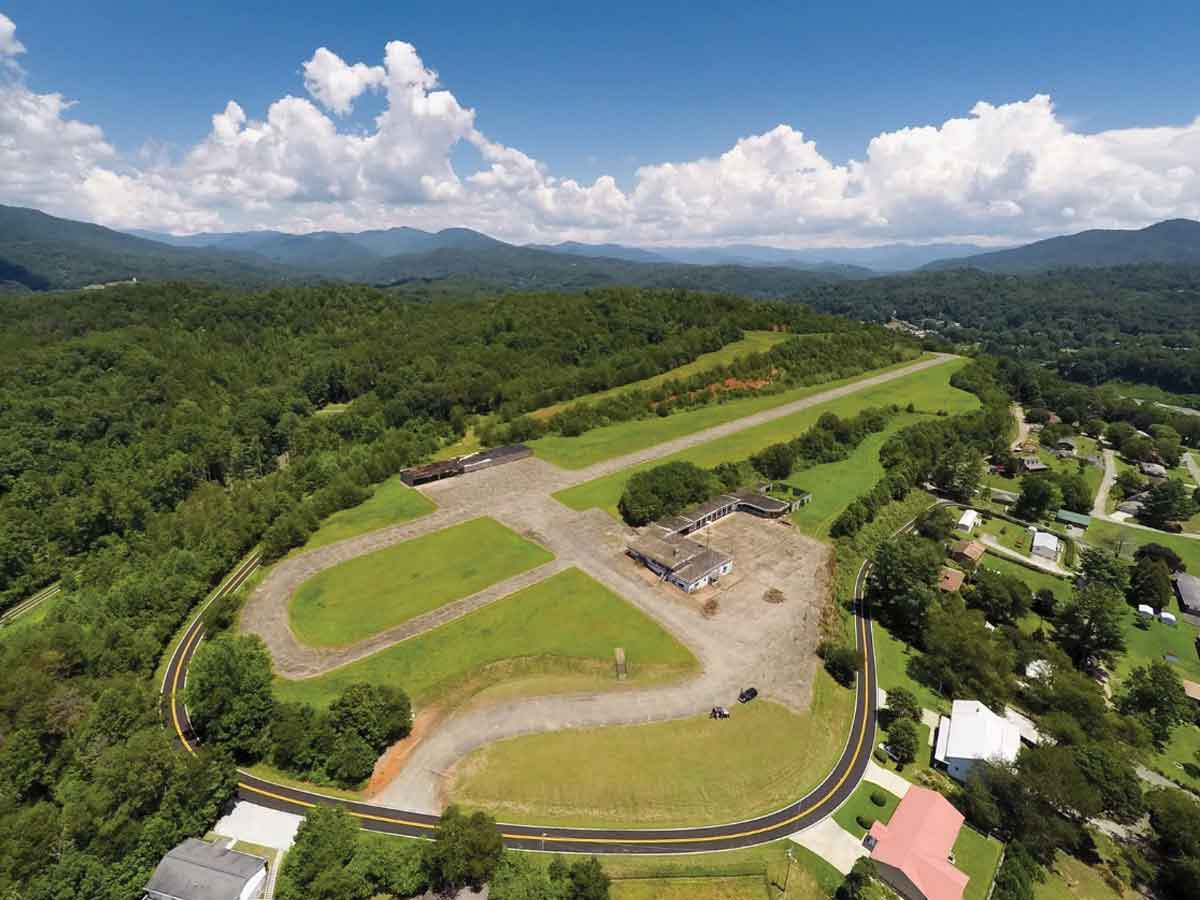 Atop a hill on the western edge of Bryson City, Sossamon Airfield has sat mostly unused for quite some time, but that may change over the next few years.
The property and an adjacent tract that total 104 acres were purchased by Great Smokies Sky Camp, LLC, for $2 million last summer with the initial aim of building a fly-in community. While the focus still isn't quite clear and the fly-in community remains an uncertain reality, residents can be confident that something will be in the works within a few years.
Brian Keefer and Colin O'Berry are both members of the Western North Carolina group that make up Great Smokies Sky Camp. Keefer said that while they are still in the planning process and nothing is close to final, they are going to keep the 2,265-foot airstrip for now.
"Once you remove FAA numbers, you can't reestablish it," he said.
Keefer said that in early conversations, the members of the LLC initially thought they'd build a "flyaway community" with some glamping and camping options on other parts of the property, but that could always change based on the circumstances.
"While the fly-in community is a great idea, it's not like we're actively pursuing it and trying to put money into planning," O'Berry said.
"We're really not married to an idea yet," Keefer said. "We have a lot of cool ideas all the time, daily. As a partner group, we don't really like to stick to the norm. We like to build cool things for the communities to enjoy and to draw some tourism to certain towns."
Sossamon Airfield sits atop a small hill on the western edge of Bryson City, but has remained largely unused in recent years. Google image
Along with members having residential projects over the years — including Pilot Cove in Brevard — the group's most recent project, USA Raft in Erwin, Tennessee, is an example of how they aim to be creative while giving folks an opportunity to enjoy the abundant outdoor recreation the region can offer.
"It's a rafting outpost on the Nolichucky River. We're really ramping up outdoor rec opportunities with rafting trips, caving trips, climbing, tubing, trying to pull a lot of folks," O'Berry said.
About a third of the property — the airstrip and the late Leroy Sossamon's old Mountain Ford Dealership — is in Bryson City limits, and the rest is in Swain County. O'Berry noted that the only house on the property is a 5,000-square-foot home currently rented on a long-term basis to a family. The group has considered two separate projects, one in city limits and one outside. Part of the reasoning is that Bryson City is currently under a highly restrictive moratorium that limits development due to ongoing sewer system capacity issues.
"We purchased this as a really cool long-term hold, and we'll eventually get a project on it, but the idea is to hold it and wait for the infrastructure to go through whatever improvement process needed," O'Berry said. "Then at that time, we'll figure out what the property needs to be and what the needs of the community are."
"We've had many different conversations brainstorming but nothing really solid enough … a lot of our conversations lean toward some type of brewery, distillery or some kind of anchor like that, and then surround it with the food side," Keefer said. "But it's so much on the back burner it's hard for us to even reach far enough to say anything is solid."
The group has already created a Gmail account, This email address is being protected from spambots. You need JavaScript enabled to view it. , where anyone can voice any opinion they have regarding the property, whether that's "ideas, stories or complaints."
"The community can go to that email address, and we'll listen to what they have to say," O'Berry said, adding that he has spoken with some neighbors who are interested in what's happening with the property. "We have no plans honestly, and we have to wait for sewer to be upgraded before we can do anything with the property."
In the meantime, while hopes remain high, O'Berry reiterated that it'll likely be at least a couple of years before folks see improvements beginning at the property.
"The property has a cool history," he said. "Mr. Sossamon had his Ford dealership up there, and it was a personal playground kind of thing. We'd love to continue the stewardship of it, but reposition it in a way that as Bryson City grows, we're there to compliment that growth."
Leave a comment
1

comment
I grew up in Bryson City - my grandfather and father were both born on Lands Creek. I was born in Gastonia, N.C. in 1938 but my family moved back to Bryson in 1940, so I knew Bryson City "back in the day", still have family and friends there and visit often. I am intrigued by your purchase of the airfield and believe it has enormous potential to really put Bryson City on the map in a big way.

I am a retired architect (I designed the Swain County Courthouse, by the way) and would appreciate hearing about your plans and being kept abreast of your progress.

Friday, 04/01/2022