Archived News
'Still plenty to do': Continual curiosity key for awarded botanist
Wednesday, April 06, 2022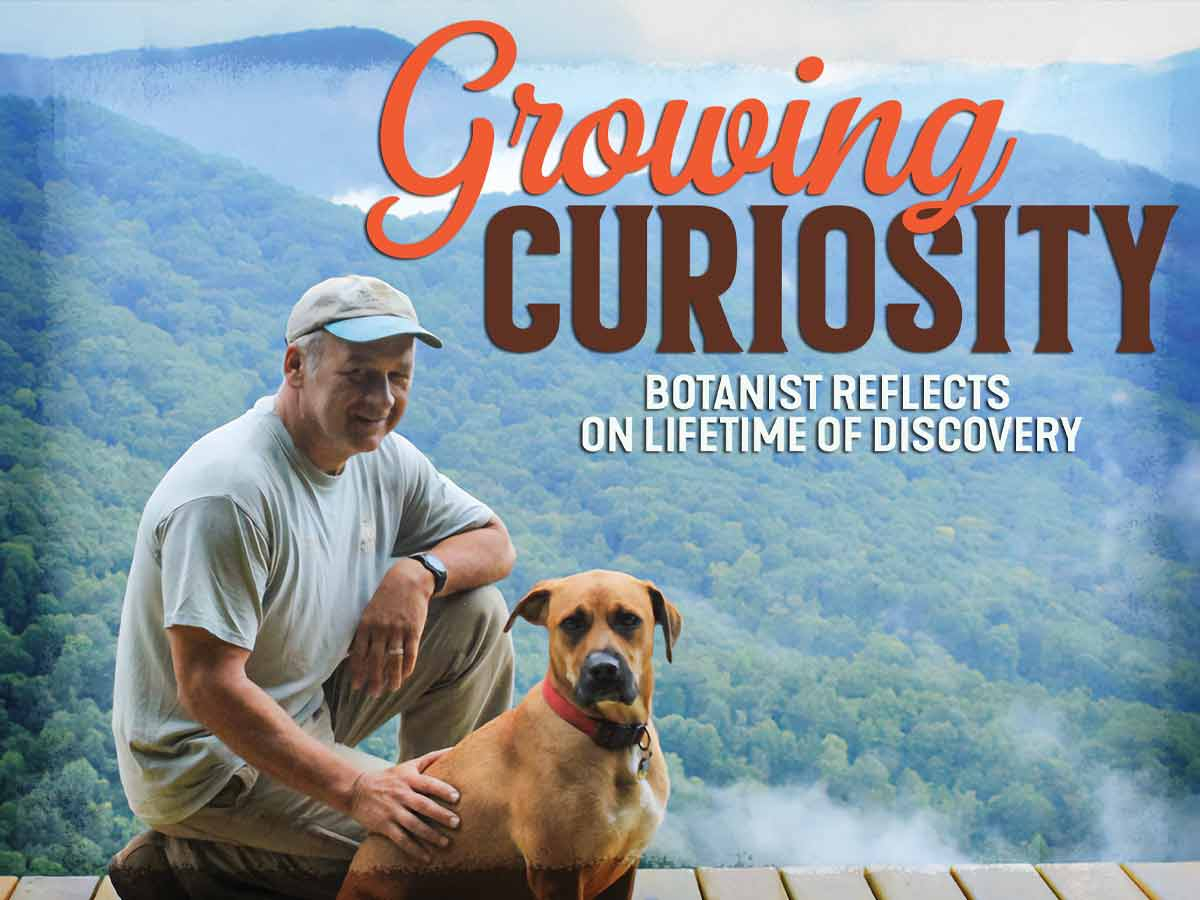 When Ron Lance found out he'd been chosen for a prestigious Southern Appalachian Botanical Society award, he was astonished.
"It's not something I ever considered myself worthy of," he said. "I've had botanical publications and all that, but since I don't have a four-year degree, I never assumed that I would be receiving any kind of award like that."
Lance, 67, graduated from Haywood Community College — then called Haywood Technical Institute — in 1975 with a two-year degree in wildlife science, and while he always meant to round out his education at a four-year institution, he never did. Unlike many natural resources graduates in the late 1970s, he had a job waiting for him as soon as he collected his diploma. The work opportunities kept coming, and he kept learning — just not in a classroom.
"Information is free to everyone," Lance said. "You don't have to go to college to learn it. College educates you on how to learn, but knowledge is pretty much free if you find a way to glean it yourself."
The Elizabeth Anne Bartholomew Award, presented to Lance last week, recognizes people who have distinguished themselves in professional and public service, advancing knowledge and appreciation of the world of plants. It's a weighty award given in a field dominated by academics and researchers with "Doctor" before their given name, but Lance's unassuming dedication to the field strikes a similarity to that of the woman the award is named for. Born in 1912, Elizabeth Anne Bartholomew held a master's degree in botany, though not a doctorate, and spent her entire career at West Virginia University.
"During these more than four decades she never sought prestige for herself nor increased financial remuneration," reads Bartholomew's biography on the SABS website. "Although serving at first as departmental secretary, then as herbarium curator, never teaching a formal course, she was intensely interested in students and their welfare. And students apparently found her ears and heart often more open and more sympathetic to their problems than were their own advisers."
"Ron was chosen for this prestigious award based on his many contributions to Southeastern botany — via his publications (including books) on woody plants and his collaborations with so many botanists and projects," said Bartholomew Awards Committee Member Wendy Zomlefer. "As one nomination letter states: '[Ron's] modesty belies a wealth of botanical expertise ... Besides extensive field work on woody species, Ron even grows the darn things to study them...'"
An autumn view spreads out from Big Ridge Preserve in Glenville. Ron Lance photo
Becoming a botanist
Like Dan Pittillo, the renowned botanist and 1998 Elizabeth Anne Bartholomew Award winner who nominated him, Lance is the product of a Henderson County farm family. His father, a truck driver, operated a farm in the Mills River area and raised various crops and livestock throughout Lance's childhood — cows, corn, chickens, sheep.
During those early years, Lance developed a love of animals that would follow him for the rest of his life. It wasn't until high school that he got hooked on botany.
"In West Henderson High School, forestry was taught in 11th grade by J.W. Francis, agriculture teacher, and I enrolled in that not really knowing what forestry was about back then," he said. "The tree identification aspect is what got me started realizing there's a lot of things living out in the environment that I didn't know anything about."
Lance was intrigued, but he remained focused on wildlife, which is what he studied at HCC. While there, he held a work study job as a lab technician, organizing and instructing courses from zoology to botany. After graduation, HCC hired him on full-time, and he stayed for a total of eight years.
"My parents and other people said, 'You can go on to college and get a four-year degree and do more,' but at the time the job outlook wasn't very promising, and my parents would have to borrow against the family farm to afford to send me to college," Lance said.
And the job offers kept coming — most of them in botany. Botany and horticulture tend to have more employment opportunities than wildlife does, said Lance, partially because there are just so many different plant species in the world.
"A botanist that tends to get bored because they've looked at everything in their little area, all they got to do is go somewhere else," he said. "You got a whole roster of things to learn. I think anybody that's been to the tropics realizes pretty quick the amount of material they don't know when they get to a tropical area is greater than what they thought they knew back home."
Ron Lance spends his days alone in the woods near Glenville, taking care of a 3,016-acre conservation easement. He's worked there full-time for the North American Land Trust since 2013. Ron Lance photos
The hawthorn problem
Lance didn't have to leave the continent to find himself awed and intrigued by the scale of botanical diversity. Back in the 1980s, Lance decided to create a photographic book of all the woody plants in the southeastern U.S. Back then, there was no internet with readily available photos of every obscure species one might care to see — armed with a Nikon SLR camera, Lance set out to take all the photos that would eventually go into the book. In the midst of that project, he ran into a problem that would become a career-defining specialty.
"The hawthorns were kind of a problem group, because every other book has different versions of what they are," he said. "So, I got sidetracked trying to figure out what hawthorns deserve to be photographed and put in the book on their own."
Hawthorn trees are notoriously difficult for dendrologists to identify. They clone themselves through seed production, but can also hybridize through pollination, so there's often disagreement as to which variations qualify as distinct species. While they don't hybridize as much as people think they do, Lance said, individual species can disappear based on habitat — they need young forest habitat to grow.
"Once the forest pulls up over the top of them, they're shaded out," he said. "They disappear. So, they're what you could call transient species of plants. They have to be on the move to find new grass to grow, because without sunlight they'll die off. They rely on birds to spread them into new habitat."
Lance quickly learned that hawthorn identification is more complicated than he thought. He published "Woody Plants of the Blue Ridge" in 1994, then "Woody Plants of the Southeastern United States: A Winter Guide" in 2004. But his work on hawthorns led to many books and publications throughout the decades, including some expected to come out this year.
It is this expertise that most impressed Pittillo, himself an accomplished botanist.
"I first met him (Lance) as an instructor at Haywood Community College but have been impressed by his ability to recognize and develop books that many of us professional botanists shied away from: hawthorns," Pittillo said. "He is an international authority on this complicated group of shrubs and trees."
Lance has identified and helped identify new species of hawthorn trees — including one that now bears his name. Lance found the tree now called Crataegus lancia near Weaverville and, working with botanist James Phipps, couldn't identify it as belonging to any previously described species. Phipps named it after Lance.
Another species, which Lance named Crataegus oreophila — the name means "mountain-loving" — he found in the Balsam Mountains.
"Whether it's of hybrid origin or not, there are thousands of them up there, and they need a name," he said.
Ron Lance spends his days alone in the woods near Glenville, taking care of a 3,016-acre conservation easement. He's worked there full-time for the North American Land Trust since 2013. Ron Lance photos
Making a career
Even as he worked through the hawthorn problem, Lance was honing his expertise in a variety of botanical disciplines through a career that soon left the HCC campus to touch down for long landings at the N.C. Arboretum in Asheville, Chimney Rock State Park in Rutherford County, the Balsam Mountain Trust in Sylva and, currently, at Big Ridge Preserve in Glenville.
Lance arrived at the Arboretum in 1988 as a labor crew leader, but in 1990 he took on the role of nursery manager, a position he held for seven years before ending his time at the Arboretum with three years as a natural science curator. His time there led to various publication opportunities and professional relationships — and the chance to develop hands-on expertise at successfully propagating a variety of native plant species. At one point, he was growing more than 500 different species in a field nursery and three greenhouses.
"I met a lot of people out there in the world in the field of botany and horticulture, that I probably wouldn't have been able to meet quite so easily had I not been an employee of the state at the Arboretum," he said. "So, that sets the framework for a lot of my botany work and horticulture work that's happened since 2001."
Lance's career next took him to Chimney Rock State Park, the same park where his daughter currently does wildlife-related environmental programming. Lance remained focused on plants, carrying the skills he'd developed at the Arboretum into his position as naturalist and nursery curator at the state park. In that position, he presented natural history programs to park visitors, worked with the press and public, and developed an inventory of native plants. Six years later, he made another change, arriving at Balsam Mountain Trust in Sylva as its senior naturalist and land manager.
Since 2013, Lance has served as biologist and land manager for the North American Land Trust, caretaking for the 3,106-acre Big Ridge Preserve in Glenville. It's conserved land, but it's not open to the public — every day, Lance drives 30 miles from the small farm above Mountain Rest, South Carolina, where he now lives with his wife, and spends the day alone on the remote property.
"I serve as the maintenance man, the biologist, maintaining roads, opening up trail," he said. "I essentially treat the property as if it's my own, and whatever it needs on any particular day, I'll try to do that."
Ron Lance spends his days alone in the woods near Glenville, taking care of a 3,016-acre conservation easement. He's worked there full-time for the North American Land Trust since 2013. Ron Lance photos
View to the future
At 67, Lance knows that the NALT will likely be his last full-time employer, though he still has plenty to keep him busy. Even now, he juggles botany-related contract work on the side, and he expects that to continue.
"There's still plenty to do," he said. "I never have let boredom set in."
Lance isn't worried about his own future, but when he looks at the challenges facing plant diversity for the decades to come, he has some serious concerns — especially when it comes to the onslaught of exotic invasive species disrupting the mountains' natural order.
"They continue to accelerate at a rate of change that's affecting the ecosystems around," he said. "Most people don't see that. They see a wall of green and they make little distinction between the good and the bad and the damaging and everything else."
But for everything from wildlife to insects to fungi, the difference between a thicket of invasive privet and a thicket of native blackberries can be the difference between life and death. Unfortunately, Lance said, these species are here to stay. The same goes for invasive insect species devastating formerly prominent tree species like hemlocks and ash.
"We're seeing the loss of these significant species in the forest, and there's not a lot we can do," he said.
For Lance, the greatest hope lies in the increasing value society is placing on public lands as outdoor recreation grows in popularity. Back in the 1960s and 1970s, he said, not many people were out hiking — hunting and fishing were the activities driving public land management.
"Now there are so many people wanting to do other nature-related activities that that's helping to preserve a lot of areas to put into parks and set aside as conservation easements," he said. "That's the best way to save parts of these mountains and the environments that not everyone may agree with. They see it as locking land up, but that's the only way you're going to protect it is to lock it up in some way against development interests."
It's not surprising that Lance would view outdoor recreation as the key to outdoor preservation. Seeing the world — whether flying to a country halfway across the globe or hiking a new trail halfway across the county — is the best way to stay humble, he said. When people see what's out there in the woods, they're more likely to see why it's important to protect it.
"There's so much more a person does not know, and they've got to be willing to pick up as much as they can while they're alive," he said. "The greatest waste of life and energy is to sit and not try to gain knowledge in some way or go somewhere and see what other people deal with, what things are alive in other areas."
Leave a comment
1

comment
Holly Kays, beautifully gathered and summarized. This report is definitely a keeper, for many folks whether they know Ron personally or not. I feel privileged to have met Ron and didn't fully grasp the impact he's had on his students, college age and some of old guys that learn from the information he gives us in papers, books, and lucky, a conversation with him.

Saturday, 04/09/2022