Archived News
Location for public bathrooms still up in the air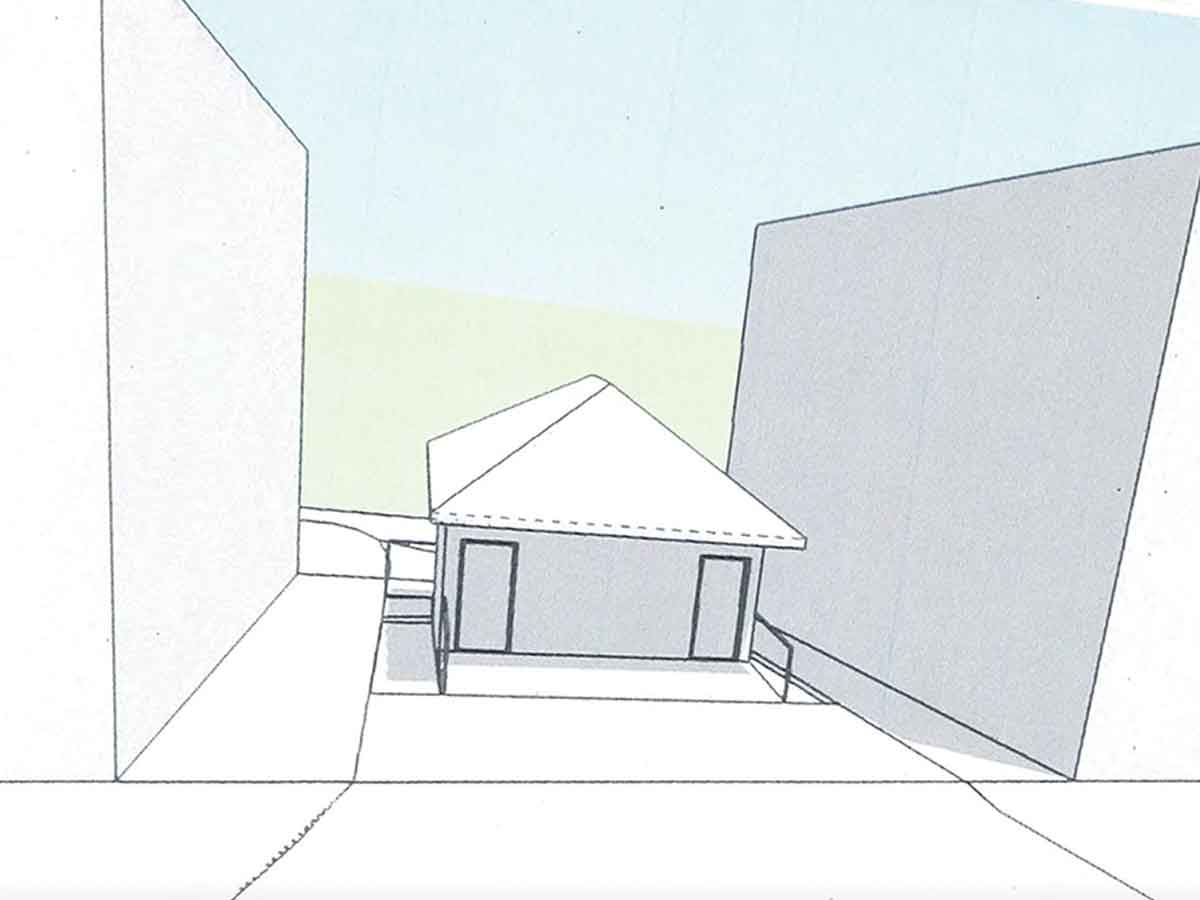 A rendering shows what the restrooms would look like at the Spring Street location, as viewed from Main Street. Donated illustrations
Several Sylva residents came out Thursday night to express their opposition to the closure of Spring Street to construct public bathrooms.
The town recently received $250,000 through the State Capital Infrastructure Fund, direct appropriations in the state budget, in order to build public restrooms downtown.
"This money was given to us by the state legislature to construct a bathroom downtown because of festivals that we have," said Mayor Linda Sossamon.
Earlier in the year, Sylva commissioners came up with three potential locations for the project — Spring Street, the old railroad depot off of Mill Street, and the old Ritz parking lot. Over the past several months, the board has discussed the merits of these three locations, and following a March 24 meeting, most commissioners seemed to be in favor of building the restrooms on Spring Street , which would result in its closure between Mill and Main streets. (According to Public Works Director Jake Scott, sewer connection at the old Ritz parking lot is cost prohibitive.)
At a May 5 meeting, commissioners approved a plan to temporarily close Spring Street to conduct a traffic study in order to determine how permanently closing Spring Street for a public restroom might affect traffic flow in the downtown area.
However, after a public hearing on the issue Thursday night, with relatively strong public opposition to that site, further discussion will have to be held to determine the final location for public bathrooms in Sylva.
Public Opinion
Six people spoke in opposition to a Spring Street bathroom during the public hearing, and commissioners read emails from two more members of the public that were also opposed to the Spring Street plan.
The first person to speak, Marian Garrett, said that while bathrooms were absolutely needed downtown, Spring Street wouldn't be a good location for the project because they would be a focal point of downtown. She was also concerned that closing Spring Street for the bathroom would cause traffic jams, and that the current traffic study would not be a good indicator for future problems because May is a relatively low traffic flow time for Sylva.
Another speaker agreed with this sentiment saying that while bathrooms are needed downtown, they shouldn't be constructed at the expense of Spring Street.
Jeffrey Hersh, a Sylva resident that lives on the corner of Shulman and Jackson Streets, said that he had noticed a strong increase in traffic since the closing of Spring Street for the study.
"This is an insane idea," said Nicole Owen, a Sylva business owner. "There are other viable options that aren't going to cause traffic accidents and aren't going to look as bad."
Finally, residents were concerned that closing Spring Street could present challenges for emergency services accessing different parts of town.
A rendering shows what the new public restrooms would look like if located at the old railroad depot.
Board Discussion
Following the public hearing, Mahaley Odell Thompson, the Sylva architect charged with creating preliminary plans for the project, spoke to the board about proposed plans for each location. According to Thompson, a bathroom at the Spring Street location is estimated to cost as much as $400,000, around $100,000 more than at the railroad depot location. That price estimate for Spring Street does not include redoing the pavers where Spring Street meets Main and Mill, something commissioners have discussed.
The basic layout of the restroom would be similar if constructed on Spring Street or at the old railroad depot location, totaling around 400 square feet, though Thompson did mention that there was more space for construction at the old railroad depot.
One of the difficulties of building on Spring Street is that officials do not know what is underneath the road as far as sewer, water and storm drains are concerned. One issue with building at the old railroad depot is reaching an agreement to lease the land from the railroad.
"That isn't insurmountable, but it is something to consider," said Scott.
One member of the public, speaking during the portion of the meeting for board discussion, mentioned that it made more sense to have the bathroom closer to Bridge Park where so many events are held.
"This isn't necessarily an event bathroom," said Commissioner David Nestler. "Events down there [Bridge Park] have a bathroom. What we're looking for is a good location for the everyday shopper, tourist and locals downtown that need a restroom. I think we're covered on events. It definitely serves events better at the depot, but this isn't necessarily an events bathroom, it's a downtown bathroom."
A major concern for commissioners is accessibility. Regardless of where the restroom is constructed, it must be ADA compliant. Commissioners think that a bathroom on Spring Street would provide easier access for people shopping on Main Street. Mayor Sossamon noted that walking down Spring Street all the way to the old railroad depot could be difficult for elderly people.
"I think one of the cases for Spring Street was the accessibility from Main Street where your customers are that might suddenly need a restroom," said Sossamon. "We wanted something that people who are at the festivals like greening up could come to and that's why Spring Street was a first thought since one lane of it is already closed and sitting there doing nothing."
Commissioner Ben Guiney said that he had walked the distance from Main Street to the old railroad depot and that it was not that far; he estimated it at 120 feet.
"I've walked it, it's Sylva, it's small, it's not that far," said Guiney. "When you weigh that [distance] against the disruption of digging up Spring Street, the unknown costs — this sounds like a nightmare to start digging into Spring Street. We've seen the traffic study; it's been a week and it's already causing a lot of disruption. I understand wanting to have it close to Main Street, but if you weigh it against the drawbacks of tearing up the road, I don't feel so sure."
"My concern for locals or visitors is pedestrian accessibility and vehicle accessibility," said Commissioner Natalie Newman. "When we say we don't want to close Spring Street, I think we're saying we want to make it accessible to cars, but I think Spring Street is a better location to make things accessible for pedestrians. You can drive down another street in a car, but someone may not be able to walk back up Spring Street to get to Main Street."
Mayor Sossamon said, "I think at some point there may be money where we can also construct another bathroom in the Bridge Park area."
The board will continue to discuss the best location for public bathrooms in downtown Sylva.
"Stay tuned for further development, is all I can say, when we will have further discussion," said Sossamon.