Archived News
Crisis pregnancy center opens in Waynesville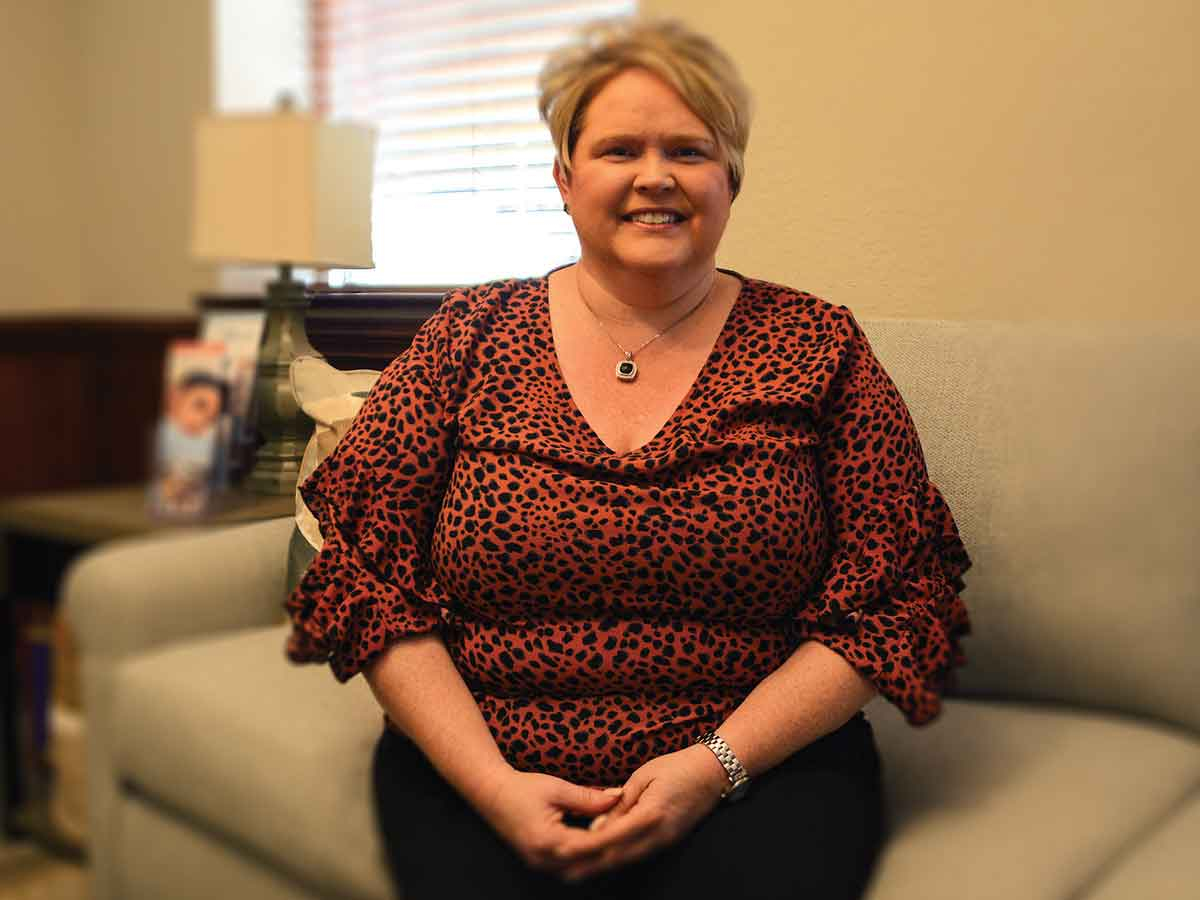 Kristi Brown, executive director of the Mountain Area Pregnancy Center since July 2018, sits in the nonprofit's new office in Waynesville. Holly Kays photo
Just three days after protesters gathered on the courthouse lawn in Waynesville to demonstrate their support for legal abortion, a nonprofit with a different perspective on the issue that has roiled the nation since May 2 — when a leaked draft of a U.S. Supreme Court decision showed that the landmark Roe v. Wade precedent is in danger — opened on the other side of Depot Street in downtown Waynesville.
"We see lives transformed. We see lives healed," said Kristi Brown, executive director of Mountain Area Pregnancy Services . "We see lives turned around all the time in this ministry, and that is our why for why we get up every day and we do what we do, and we do it with love and compassion. You often find that these families, even if they're in a very difficult circumstance, they just need someone to listen. They need someone to care."
A self-described "life-affirming pregnancy center," MAPS does not perform or refer for abortions. Instead, it works with women and couples facing an unplanned pregnancy or miscarriage, offering a variety of pregnancy and grief-related services. The center operates from a Christian worldview, though staff only discuss faith with clients who express a willingness to talk about it, Brown said — the 310 clients served last year included self-proclaimed Christians, Wiccans, Buddhists, atheists and agnostics.
The organization has been around since 1981, but until this week it operated out of a single location in Asheville. While MAPS does provide medical services at pregnancy centers in Burnsville and Mars Hill, the new office that opened May 17 in Waynesville is its first true satellite campus.
"We know that there is a need because we serve women from the county in Asheville," Brown said. "We had been engaged in the past in a few attempts to form a pregnancy center here and for various reasons, those never came to fruition."
Last year, Brown said, "our hearts began being stirred" once more to establish a pregnancy center in Haywood County, and MAPS formed a work group with friends of the ministry to pray about and discuss the issue. Within about six months, the group had a "clear direction" to move ahead, and MAPS signed the lease in December. Brown said they'd expected to open months earlier, but equipment backorders delayed the date.
Now, MAPS is opening its doors amid nationwide turmoil over the future of legalized abortion in the United States.
If Roe v Wade is overturned, the legislature of each state will determine the procedure's legality. Unlike many other Southern states, North Carolina does not currently have any laws on the books that would immediately restrict abortion access in the event of Roe v. Wade's reversal.
"At the end of the day it doesn't impact us in the sense that we will continue to provide all of our services," Brown said of the impending Supreme Court decision. "Even if the law gets changed, there will still be unplanned pregnancies and there will still be women in crisis pregnancy situations that need assistance and support."
MAPS' services fall into two categories — pregnancy resources and grief counseling.
For clients facing an unplanned pregnancy, the nonprofit provides medical-grade pregnancy tests and a limited OB ultrasound to ensure that the baby is in the right place in the uterus and has a heartbeat. Clients can then receive counseling to discuss their options — adoption, abortion or parenthood.
"They make up their mind what they want to do — that's their choice," said Brown.
For those who choose to become parents, MAPS offers free parenting classes. People who participate in the program leave with more than $350 worth of free baby supplies.
MAPS also provides grief services. One-on-one grief counseling is available for those who have lost a baby. Compassion scans, for women who have lost a child and then get pregnant again, record the new baby's heartbeat and put it in a stuffed animal for her to take home, a talisman to ease the anxiety of the new pregnancy. MAPS' "very unique" prenatal diagnosis program walks with women and families who have been told the child they're carrying is not likely to survive, Brown said, helping them plan celebration of life and funeral services, make memories with the baby and understand what's happening to the mother's body as the pregnancy continues.
The nonprofit also offers abortion recovery classes. Brown is firm on her stance that abortion is an inherently harmful procedure.
"If you really understand the impact of abortion and what it does in a woman's life, you would never in a million years say it's quick and easy and painless," Brown said. "The consequences are so far-reaching, and those consequences carry through someone's entire life. I have never met a woman who went through an abortion that cannot relay every detail of that horrible day in her life. She remembers it like it was yesterday, even if it was 20 years ago."
Brown cited a study published January 2017 in Cambridge University Press that, after analyzing research published 1995-2009, found a "moderate to highly increased risk of mental health problems after abortion." According to the study findings, women who experienced an abortion had an 81% risk of mental health problems, with 10% of the incidence attributable to abortion.
"The strongest subgroup estimates of increased risk occurred when abortion was compared with term pregnancy and when the outcomes pertained to substance use and suicidal behavior," the study found.
While the study is widely cited, it's also contested. A Planned Parenthood publication on the topic of mental health following abortion points to an Academy of Royal Medical Colleges review of studies about the emotional effects of abortion published in English from 1990-2011. It concluded that rates of mental health problems for women with an unwanted pregnancy were the same whether they had an abortion or gave birth.
Brown also said that abortion, especially chemical abortion, is not without risks. She pointed to a 2006 study published in Annals of Pharmacotherapy that analyzed 607 adverse event reports submitted to the U.S. Food and Drug Administration over a four-year span involving the chemical abortifacient mifepristone. Of the 607 cases, 513 required surgical intervention and the most frequent complications were hemorrhages and infections. Of 237 hemorrhages, one was fatal and 42 were life-threatening, while three of the 66 infections were fatal and four were life-threatening.
An FDA Q&A on the drug states that there were 26 reports of deaths associated with mifepristone between June 30, 2021, and the product's approval in September 2000. However, the article states, the deaths "cannot with certainty be causally attributed to mifepristone because of concurrent use of other drugs, other medical or surgical treatments, co-existing medical conditions, and information gaps about patient health status and clinical management of the patient."
While MAPS will not refer for abortions, Brown said it's committed to supporting parents-to-be through what is often one of the most difficult seasons of their lives.
"Our mothers who choose life and our fathers who choose life, they always tell us when the baby comes, 'I love my child, I can't imagine life without my child, my life is so much richer because of my child,'" Brown said. "We never hear the opposite."
Contact the center
The Mountain Area Pregnancy Services office in Waynesville is now open 10 a.m. to 4 p.m. Tuesdays and Wednesdays at 177 North Main Street. Staff are available via 828.558.4550 or This email address is being protected from spambots. You need JavaScript enabled to view it..
Leave a comment
1

comment
Very glad to hear MAPS is up and running in Haywood County ????!

Monday, 05/23/2022