Archived News
MCSO affidavits offer strange and heinous details of alleged kidnapping, homicide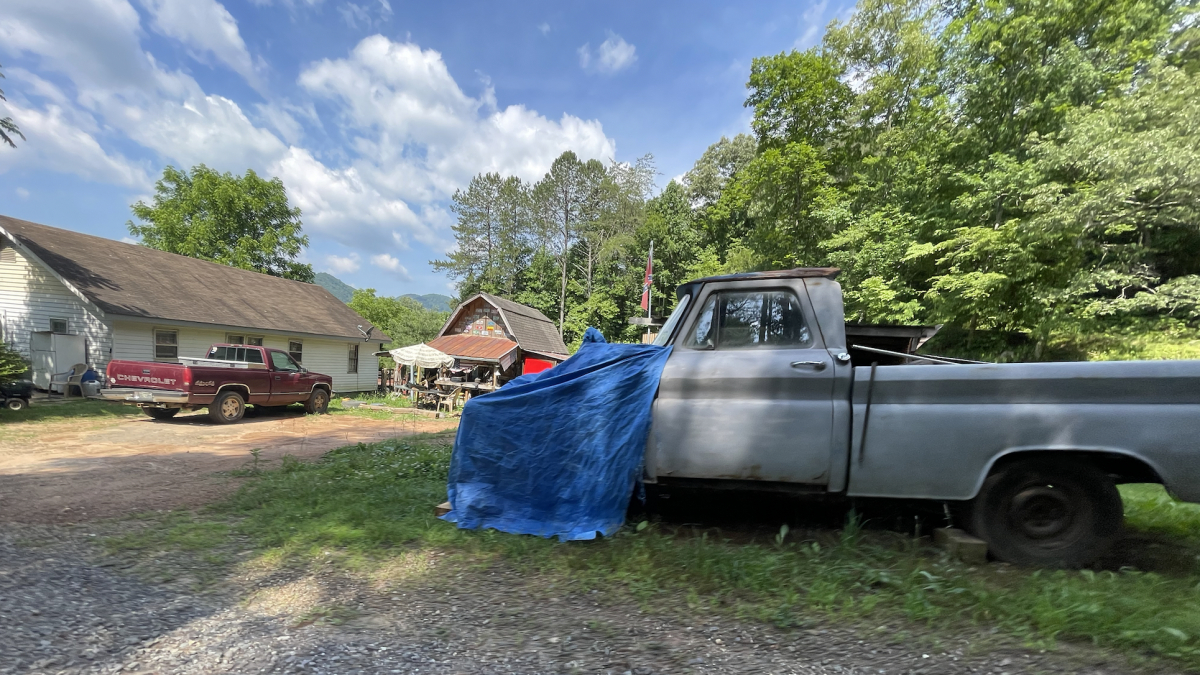 Chris Shields' residence in the Otto area.
A man currently in jail on charges of kidnapping and assault may soon be charged with murder if search warrants related to the case are any indication.
Probable cause affidavits for the warrants, signed by several different judges on different dates over the last four weeks, form a narrative that plays out over several days and details multiple kidnappings, as well as murder and the subsequent burning of a corpse — all predicated on one man's delusional belief his girlfriend had been murdered.
Once the dust settled and the search warrants were executed, four people were arrested. For Derek McCrackin, Jessica Smith, and Lenor "Lenoka" Wilson, charges ranged from first-degree kidnapping and assault with a deadly weapon to disturbing human remains. But at the center of the case is Christopher Shields, a man with an extensive criminal record.
At this time, the name of the woman believed to be the victim will not be printed due to the fact that the remains were unidentifiable and DNA results are pending. In addition, Macon County Sheriff Robert Holland said murder charges can't be brought until those results confirm the victim's identity.
Macon County deputies were first alerted there may have been a homicide when a relative of the victim called the Rabun County, Georgia Sheriff's Office on May 19. That relative said the victim had been missing for a while and that he had just heard she'd been murdered at Shields' house in the Otto community. A Rabun County Sheriff's Captain passed along the names of three women the man believed witnessed the murder to Macon County Sheriff's deputies.
The next day, Rabun County received another 911 call from the man, this time saying that a woman was actively "getting away from Chris Shields and his house." After law enforcement tracked her down, the woman and several Macon County Sheriff's detectives quickly met at the Otto Fire Department.
"[She] told detectives that she was at Chris Shields' residence in the shed on Wednesday 5/18/22 and that she saw a female's body lying on the floor inside the shed," the probable cause affidavit reads, adding that she said Shields was a "violent person" with a bad temper who always carries a gun.
She said Shields thought the victim had killed his girlfriend and cut up her body, adding that Shields went to the victim's house, "punched her in the face, then dragged her to his truck and took her to his residence and tied her to a chair in the shed."
Shields' residence is located a few miles up South Tryphosa Road, a winding gravel road off Highway 441 lined with woods, hay fields and the occasional home. In front of Shields' house are a few old vehicles and behind it is a large shed — the shed where he allegedly killed his victim. The woman who met with law enforcement at the Otto Fire Department noted that the body she saw was a female wearing jeans and black flip flops. She also said she saw blood coming from underneath the body.
Detectives, including Captain Dani Burrows, who heads up MCSO's criminal investigation division, paid Shields a visit. When they arrived, Shields and another woman were across the road from his house working on a truck. The deputies introduced themselves and said they were looking for the victim, to which Shields replied he'd seen her about a week prior. He recommended they check the Rabun County Jail.
"Captain Burrows told him she was not in jail," the affidavit reads.
Shields gave them permission to look inside the shed. Two detectives proceeded while two stayed back with the woman. Shields popped the padlock off the shed and welcomed them inside. The detectives didn't see blood on the floor, but they did notice a little bit on some bedsheets.
A witness and several MCSO detectives met at a nearby church. The witness said she was present when the victim was shot and that she "began to freak out."
"[She] told Mr. Shields she needed to leave, and then he pushed her against the wall on the bed and kept her from leaving," the affidavit reads, also noting that he threatened to shoot her.
The affidavit says the woman told detectives that McCrackin and Smith came to the shed and that Shields told them they were going to help him bury the victim, whose body they allegedly loaded into the back of his truck. They then drove to a property off nearby Mulberry Road owned by a Bashey Arizona McCracken that WLOS reported had a "homeless encampment" on it. The woman said that was where Smith and McCrackin were "forced" to help burn the body.
Finally, the woman admitted that messages regarding the alleged crime had been exchanged on Facebook, prompting the search warrant to obtain her data from that company. Not long after, items were seized from Shields' house, including cigarette lighters, a cup, cigarette butts, cell phones, gloves, a shovel, a pitchfork, a battery pack, a flashlight, a gas can, a hoodie, a hair clip and "various metallic objects."

The next day, another warrant was executed that allowed swabs to be taken from items inside the shed. In addition, more items, including Shields' truck, were seized. In the back of the truck were shovels and a black flip flop matching the description of the one the victim was last seen wearing.
On June 1, a search warrant was executed that allowed deputies to take a cell phone "with heavy damage to the screen" found in the area off Mulberry.
Another search warrant signed and executed June 8 begins with the same narrative but elaborates on how the case developed. It details the strange motive likely behind the homicide, saying that Shields believed the victim had killed his girlfriend and "chopped up the body and scattered her remains across several counties in North Carolina."

Shields was apparently also told even more graphic details by someone he thought may have some knowledge as to his girlfriend's whereabouts.
"The story was also told that, when [Shields' girlfriend's] body was chopped up, it did not kill her and they took the body to Lenoka Wilson to get her sewed up and put back together and she was alive, but then died so they burned they body," the affidavit reads. "[Another woman] supposedly performed some type of séance over the body as it was being burnt."
Sheriff Holland said they located Shields' girlfriend, who was alive and well.
On May 26, detectives interviewed the woman Shields believed performed the séance, whom he'd also allegedly kidnapped.
"Chris Shields kidnapped them by forcing them by gun point with a rifle and they got inside Chris Shields' truck. Chris Shields then took [that woman] and [the victim] to his residence … and put them inside a shed," the affidavit reads.
That woman alleged that Shields and Smith had assaulted and threatened her in a variety of ways, claiming that Smith had held her at knife point, an allegation that led to Smith getting charged with first-degree kidnapping and assault with a deadly weapon.
Another interview was conducted with the victim's boyfriend, who said he and two other men were out of town "on a job" on May 16 when Shields allegedly kidnapped first the two women from their home just a few miles away from his. Then, on May 19 when they returned, there was some kind of altercation between Shields and the three other men that ended with Shields kidnapping two of them and assaulting one by kicking him in the face. The victim's boyfriend presented photographic evidence of the damage left from the kick to the face.
More information was gathered from an interview with Wilson. During that conversation, Wilson told detectives that Shields handed her a shotgun and instructed her to not let the victim and another woman present leave. Although she was eventually allowed to leave by Shields, she said she didn't try to contact law enforcement. She was subsequently charged with two counts of first-degree kidnapping for holding the women against their will.

Shields is currently being held at the Macon County Detention Center on $750,000 bond.

While Sheriff Holland wouldn't comment regarding any future charges that may be taken out against Smith, he did say that he requested the DNA identification of the victim be expedited.
"The family of the woman we believe to be the victim has been cooperative in allow us to collect DNA samples," he said.
Leave a comment
3

comments
To the victim brother, I have something that I think you would want. Please contact at 828-331-0399

Tuesday, 06/21/2022

Some of the things in your release of information about my sister's case is not true,, I was told this by the detectives in Macon County and they are trying to get something done about this I am the brother and hope you do not hurt this case in any way ,the family out of respect would like for you to please make sure your information is right and approved with the detectives in Macon County, Franklin North Carolina..thanks in advance...

Tuesday, 06/21/2022

Some of the things in your release of information about my sister's case is not true,, I was told this by the detectives in Macon County and they are trying to get something done about this I am the brother and hope you do not hurt this case in any way ,the family out of respect would like for you to please make sure your information is right and approved with the detectives in Macon County, Franklin North Carolina..thanks in advance...

Tuesday, 06/21/2022