Archived News
WNC voices opposition to Catawba casino legislation
Wednesday, April 24, 2019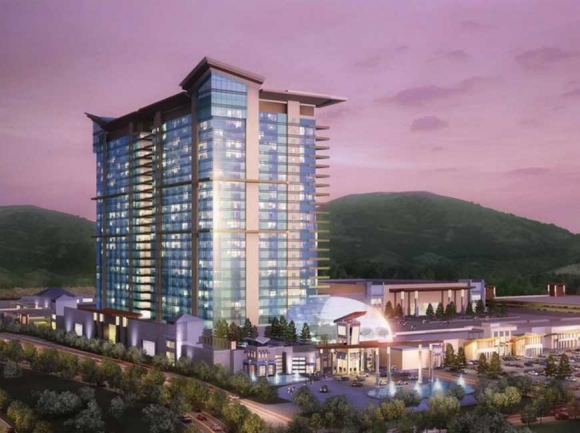 If approved, the casino would be built on a 16-acre property in Cleveland County, employing an anticipated 3,000 people. Catawba rendering
Towns and counties across Western North Carolina are considering resolutions to oppose a Congressional bill that would pave the way for a casino to be built in Cleveland County, likely delivering a blow to profits at Harrah's Cherokee casinos in Cherokee and Murphy.
"What we're trying to shine some light on is yes, this will definitely have a negative economic impact, but it's not just the Eastern Band it's going to impact," said Principal Chief Richard Sneed. "We employ 4,000 North Carolinians; $179 million goes into the surrounding counties."
The spate of county and municipal resolutions followed statements Sneed made at a Southwestern Commission Governing Board meeting in March. Sneed spoke to the assembly of regional leaders to ask for their support in making the region's displeasure at the prospect known, providing a sample resolution for them to consider passing. So far, Haywood County, Swain County, Jackson County, Waynesville, Bryson City and Murphy have passed variations of that resolution.
The resolutions focus heavily on Harrah's significant contribution to the region's economic landscape, especially its impact on unemployment and job opportunities. About one-third of the casinos' patrons come from places that would be closer to the site in Kings Mountain than to Cherokee or Murphy.
The two casinos together employ about 5 percent of workers in North Carolina's six westernmost counties — about 3,069 people — and had an estimated $750 million regional economic impact in 2018, the resolutions say. Prior to the casinos' establishment, seasonal fluctuations in unemployment sometimes peaked at 17 percent, but now fluctuations range from 2 to 4 percent. The casinos contribute about $129 million in direct wage and salary income and about $276 million in indirect wage and salary income to the local economy, and they generated close to $90 million in local spending while creating more than 2,600 jobs, the resolutions say.
The documents also speak to the casinos' tax contributions — the state's share of casino revenues reaches $11 million annually, with other benefits to state and local coffers approaching $80 to $90 million.
Finally, they state each entity's opposition to the bill, known as S790, and call for North Carolina Senators Richard Burr and Thom Tillis, both of whom are cosponsors, to withdraw their support.
"They're our constituents. It's great for our county and North Carolina, and we'd be foolish not to support them," Jackson County Commissioner Boyce Deitz said when that board discussed the resolution in an April 9 work session.
Tillis' and Burrs' offices did not reply to a request for comment on this story.
Criticism from Cherokee
The bill in question was introduced by South Carolina Sen. Lindsay Graham on March 13, with Burr and Tillis signing on in support.
"The Catawba Nation has been treated unfairly by the federal government, and our legislation rights that wrong," Graham said in a press release issued March 14. "I hope this legislation will be quickly passed through the Congress and signed into law so we can once and for all bring resolution to this issue."
The bill itself is quite short, consisting of only five paragraphs. It states that the Catawba Indian Nation is authorized to own a gaming facility on the 16.5-acre piece of land in Cleveland County, that the Secretary of the Interior is authorized to take the property in question into trust for the tribe, and adds that the facility must comply with the Indian Gaming Regulatory Act — except for section 20 as it relates to the particular piece of land described.
The section from which the tribe would be exempt relates to gaming on lands acquired after Oct. 17, 1988. The section says that gaming may not take place on lands taken into trust after that date unless those lands are contiguous to the boundaries of the reservation, or if the tribe had no reservation on that date.
The prohibition can be lifted if the Secretary of the Interior determines that a gaming establishment on newly acquired lands "would be in the best interest of the Indian tribe and its members, and would not be detrimental to the surrounding community."
However, even in that case the governor of the state where gaming is to occur would need to agree with the secretary. The prohibition can also be lifted if lands are taken into trust as part of a settlement of a land claim, are part of the initial reservation of a tribe or are part of a restoration of lands for a tribe that has been restored to federal recognition.
According to Sneed, passage of the bill would set a sweeping precedent for Indian Country.
"It would really open the floodgates for any tribe anywhere in the country to say, 'We don't have to follow the process anymore. We have to find a senator who will introduce a bill,'" he said.
Because of the way the gaming laws are written, the Eastern Band can't buy a piece of property any old where — whether that be a couple hours away in Cleveland County or across state lines in Tennessee, Georgia or California — and go through the lengthy and costly process of having it taken into trust with the expectation of building a casino there. The bill would make an exception to existing laws for a specific tribe and a specific property — if it were a bill that affected all tribes equally, he said, his opinion would be different.
"There's 30 years of Indian gaming law that we all have to abide by, and this bill would seek to create a special exception for one tribe," Sneed said.
Further, he said, the land where the Catawba want to build was historically Cherokee, not Catawba — in a statement issued the day after the bill was introduced, he called the bill "nothing more than a modern day land-grab by the federal government of Cherokee aboriginal lands."
Setting precedent, or correcting an oversight?
The Catawba, meanwhile, dispute most of Sneed's claims about what they're trying to do and the potential implications.
For one thing, the tribe said in a statement issued in response to Sneed's, the land in question is indeed aboriginal to the Catawba.
"A quick look at the website for the Charlotte Museum of History documents the Catawba Nation being in this area over 10,000 years ago," the statement reads. "The Eastern Band of Cherokee Indians is simply trying to protect their own economic interests based on inaccurate historical information."
The tribe also disputes Sneed's claims as to the implications of the bill's passage, and its likely impact on business at Harrah's.
"Chief Sneed doesn't have a good understanding of our current settlement agreement," said Elizabeth Harris, tribal administrator for the Catawba. "I think he's trying to make some generalities to scare Indian Country into feeling like this is something unusual and it's going to set new precedent."
The Catawba Indians gained federal recognition during the Franklin Delano Roosevelt administration, but that recognition was terminated in 1959, according to the tribe's website. However, in 1973 the tribe filed a petition to regain recognition. It took 20 years to attain that goal, when a land claim settlement was reached on Nov. 20, 1993. The 21-page agreement covers a lot of ground, defining the existing reservation as a 630-acre tract in York County, South Carolina, laying out the process for expanding the reservation and stating that with the agreement the tribe agrees not to make any future land claims based on events and treaties occurring previous to the agreement.
The settlement document also defines the tribe's service area to mean the entire state of South Carolina as well as Cabarrus, Cleveland, Gaston, Mecklenburg, Rutherford and Union counties in North Carolina.
According to Sneed, Cleveland County's status as part of the tribe's service area should have little to no bearing on the outcome of any application to take land into trust, or to build a casino. "Service area," he said, is simply a designation that means enrolled members living in that area are eligible for Indian Health Services benefits regardless of whether they live on the reservation.
"We have a five-county service area, but that doesn't mean I can build a casino in Sylva," Sneed said. "They're playing on the ignorance of the general public, because the general public, they are mostly unaware of Indian Country and the relationship that exists between tribal nations and the federal government."
The Catawba, meanwhile, argue that the bill simply seeks to correct an oversight in the 1993 agreement. The agreement lays out step-by-step how land in South Carolina can be taken into trust but says nothing about how the process should work in North Carolina. In order for a gaming operation to be approved, the land on which it is to be built must be part of tribal trust land — getting it there is a years-long process that goes far beyond simply holding a deed.
"Bill 790 goes back and puts in the language that should have been put in 1993," said Catawba Chief Bill Harris. "So when declarations are being made that Catawba is land-grabbing or reservation-shopping, we are setting a legal precedent within Indian Country — those are all false accusations."
The lack of clarity surrounding land-to-trust procedures for North Carolina spelled trouble when Catawba put forth its application to take its 16 acres in Cleveland County into trust, Bill Harris said.
"They can do it now but there would be some gray area," said Elizabeth Harris. "It (the bill) clears up the gray area as to how that process for taking land into trust is done."
North Carolina has already approved gaming in the state, while South Carolina — despite multiple efforts by the Catawba — has not. Therefore, to the Catawba establishing a casino in North Carolina seemed like the better bet.
The Catawba first applied to take the property into trust in 2013 but then withdrew and resubmitted the application in December 2018.
According to Bureau of Indian Affairs spokesperson Nedra Darling, the BIA is currently reviewing the application for environmental compliance and other regulatory requirements. If it's found acceptable, the application will go to the Secretary of the Interior for final approval.
According to plans released in 2013, the proposed facility would be 220,000 square feet with 750 guest rooms split between two hotels, requiring a capital investment of $339 million. It would employ 3,000 people and support an additional 1,330 jobs in the Cleveland County area.
Impact to Harrah's
It's an agreed-upon fact that the casino, if built, would impact Harrah's bottom line, and therefore the Eastern Band's. Casino profits make up the lion's share of the tribe's budget, which tops half a billion dollars annually — half the profits go to tribal coffers while the other half are distributed to tribal members as per capita payments.
How big a dent the competition might make, though, is an open question.
"At this point we're not looking at a specific dollar value, but we do recognize it could be a significant impact on the business if it comes to be," said Brian Saunooke, regional vice president of marketing for Harrah's.
While one-third of the casino's customers are closer to the Kings Mountain site than to Harrah's, a significant portion of them would likely travel to Cherokee anyway.
"When we talk about our customers, it's not a one-size-fits-all category," said Saunooke.
VIP customers, for instance, typically have access to comp airfare and can take their pick of destinations. It's also a question of amenities. Harrah's has been continually expanding since it opened in 1997, with various enhancements adding fine dining, retail, hotel rooms and additional gaming opportunities. A major expansion currently underway is expected to be complete in early 2021, featuring an additional 750 hotel rooms as well as retail, conference and convention space. If a bill currently under consideration in the state legislature passes, Cherokee could add sports wagering to its list of offerings by late summer. The bill — which passed the Senate 43-7 April 9 and now awaits action in the House — applies specifically to Cherokee, so the Catawba would need to secure separate legislation should the Kings Mountain casino become a reality.
"What we have learned in our studies talking about gaming patrons is if they find something that they like, they don't want any change … if they are happy with Cherokee they'll bypass Catawba to go to Cherokee," said Bill Harris.
Bill Harris said Catawba estimates it would end up siphoning 5 to 10 percent of Harrah's existing customers.
Nevertheless, a hit to Harrah's won't just be a hit to the tribe — it will impact Western North Carolina as a whole. The casino is an important player in the regional economy, both on and off Cherokee land.
"It's not just this casino and their revenue," said Saunooke. "It's not just the tribe and their revenue. It really is Western North Carolina. We're all in this a little bit together."
The Catawba, meanwhile, say they'd like to see a "we're all in this together" attitude emerge between their tribe and the Cherokee. A partnership between the two tribes, they say, would be a "win-win."
"Catawba's only looking to do what Cherokee has already done," said Bill Harris. "As a matter of fact we wish to mirror exactly what they've done."
Sneed, however, maintains that they should work toward that goal at home in South Carolina.
"We don't have an issue with the Catawbas doing economic development or even a casino, but they need to do it on their tribal trust land in South Carolina," he said.