Archived Outdoors
Full house: Photo prompts concern about conditions at Max Patch
Wednesday, September 30, 2020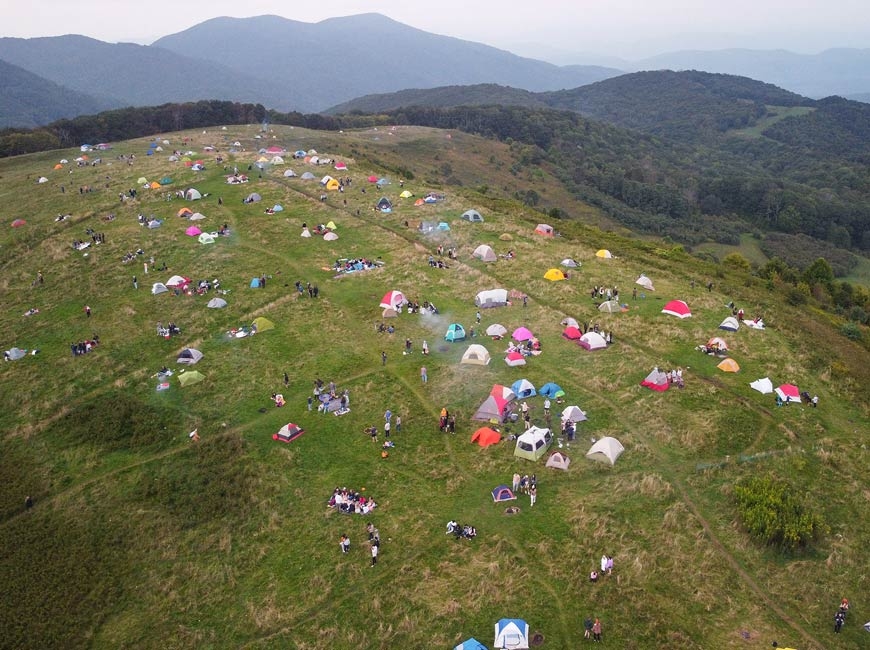 About 130 tents dot the top of Max Patch in this photo taken by Mike Wurman on Saturday, Sept. 19. Mike Wurman photo
Mike Wurman visited Max Patch for the first time in May 2014, and the experience changed his life.
Wurman, an artist, had only lived in Asheville for about two years at the time after moving from Texas. He wasn't much of a hiker, but his brother-in-law suggested that he check out the iconic bald, located in Madison County just past the Haywood County line. At the time, Wurman was feeling lost and full of self-doubt about his art. But something changed when he knelt down to take a photo of the white-blazed post marking the Appalachian Trail's path across the bald.
"Immediately I was overcome with the desire to draw again," he said. "I felt like I wanted to completely hike the trail."
Three months later, he'd outfitted himself with backpacking gear and was on the A.T., which he has since completed with four different section hikes. Wurman's life has never been the same.
A viral view
Fast forward to Sept. 19, 2020, and things have changed for Max Patch too.
Wurman, 56, and his friend 39-year-old Madison County resident Sarah Jones Decker, arrived at the trailhead around 2 p.m. to find that not only was the parking lot full, but cars were parked on either side of the narrow gravel road for about half a mile leading up to it and then past the parking lot down the other side. Jones Decker said she counted about 140 cars in all.
"We'd never seen it like this," Wurman said.
With traffic like that, "you couldn't get an ambulance up there if you wanted to," said Jones Decker. That lack of emergency access, combined with the nuisance of a constant stream of cars kicking dust up and down the once-quiet road, has severely detracted from the quality of life for residents of the access road.
Jones Decker and Wurman didn't hike all the way to the summit that day, but Wurman had his drone with him — he takes it with him most places in hopes of capturing images he can later turn into paintings.
"I launched it, and I cannot believe the number of tents that were covering the bald," he said.
In the week since, that image has gone viral. It shows a birds-eye view of Max Patch colonized by about 130 tents, not to mention picnic blankets. Wurman and Jones Decker left the trailhead around 9 p.m., at which time even more people were arriving. It was a chaotic scene, Wurman said, with people jumping over fences to walk on shorter but closed-off routes to the top and playing loud music from their campsites.
"Just talking to people who live on that road — and I live locally — it's definitely not an isolated event," said Jones Decker. "My whole thing is just about sustainability and Leave No Trace. This is not sustainable."
Harriman, Tennessee, resident Benny Braden camped at Max Patch the night before Jones Decker's and Wurman's visit, a last-minute detour on his drive home from Asheville. Braden, 47, is an avid backpacker and has camped at Max Patch several times each year since first visiting in 2015. But on this particular evening, there were so many people on the summit that he decided to pitch his tent on the lower shelf instead.
"We could hear people partying, playing music, laughing, cutting up all the way to 3, 4 a.m. that night," he said. "I've had people comment on my social media that said, 'Hey, we were up there, not partying or anything of that nature, and ended up sleeping in our car at 11 p.m. because people were being so disrespectful."
While he was in the area, Braden figured he might as well help clean it up. After picking up trash Friday night and Saturday morning with the help of a few friends, he ended up with five bags of trash — 82 gallons in all — along with four pillows, three blankets and one wagon. A subsequent pickup Friday, Sept. 25, yielded an additional 12 bags of trash, two sleeping bags and "enough TP and various toiletries to fill several bags," Braden said on his Facebook page Plug it In Hikes. That's despite the fact that Braden is far from being the only person to start picking up trash in response to news coverage of the issue — a steady stream of litter volunteers have been up at Max Patch over the past week.
An ongoing issue
Misuse and overuse at Max Patch are not new problems, and in some ways Wurman's viral photo came as a welcome relief to land and trail managers who have been trying for years to convey the severity of the issues there.
"I'm glad to have it," said Morgan Sommerville, regional director for the Appalachian Trail Conservancy. "A picture's worth a thousand words."
When Sommerville thru-hiked the A.T. back in 1977, Max Patch was still privately owned and the trail followed the gravel road rather than climbing over the scenic bald. But once the property was acquired in 1982, the U.S. Forest Service together with the Carolina Mountain Club and the ATC began work to relocate the trail. Since then, use has increased and then exploded as Max Patch has found its way onto countless 'best hikes' lists. It's often touted by local tourism organizations as a must see and has appeared on multiple magazine covers over the years.
Then, there's social media. On Instagram, #maxpatch has more than 37,000 posts, while the also-popular #BlackBalsam has only 12,000.
"In 2003 there weren't 100 websites telling people it was one of the places you had to check out," said Jones Decker, also an A.T. thru-hiker, citing the year she first visited a much-less populated Max Patch. "It was a place that people went, but in the first 10 years I never felt like it was crowded."
That's changed now, and Sommerville reflects that the location of the parking lot, within view of and a quarter-mile's walk from the summit, isn't helping.
"It's a little bit unique," said Sommerville. "In the region I work in — Georgia, Tennessee, North Carolina — I don't think there's any place experiencing more concentrated use than that."
The resource-related impacts must be addressed, said Sommerville, but the impacts to area residents are the most distressing part of the problem.
"The road is literally blocked with visitors to Max Patch, and that's unsafe and inappropriate," he said. "It needs to be effectively dealt with."
That's not to say that high use is not a problem elsewhere. It is. Wilson Creek on the Grandfather District of the Pisgah National Forest has significant litter issues, as does the U.S. 276 corridor of the Pisgah District, said Cathy Dowd, public information officer for the National Forests in North Carolina. Large numbers of visitors to the Black Balsam and Graveyard Fields areas mean that parking is often a problem there, and the trails are often crowded.
"If you look at social media of other national forests, you'll see it's a nationwide issue," said Dowd.
Braden, Jones Decker and Wurman said that what they saw this month seems to represent a leap in use. Braden postulated that increased interest in outdoor spaces due to COVID-19 could be part of the reason.
"This is the only time I've ever seen it like this," he said. "It was just a little bit disturbing. I don't know all of the reasons behind it or anything of that nature — all I know is what I observed. It's possible that COVID could have something to do with it. If college kids aren't allowed to have parties on campus, they're going to figure out a way to do that. They're going to go wherever they need to, to do that. That's what I'm suspecting probably occurred."
Benny Braden and other volunteers picked up 12 bags of trash from Max Patch on Friday, Sept. 25. Benny Braden photo
Taking action
However, said CMC's Appalachian Trail manager Paul Curtin, while the crowd Braden witnessed may have been more rowdy than usual, he wouldn't say it's unusual in terms of numbers. According to Dowd, the Forest Service didn't issue any permits for large gatherings at the area on Sept. 18 or 19.
Last fall, CMC volunteers counted more than 100 tents on multiple occasions, with several hundred vehicles parked along the road. Dowd said that on Sept. 21, CMC volunteers counted 500 visitors in a single day.
"I know that picture really started a lot of conversations, but to me what's going on up there, that's not a new thing," Curtin said. "What's new is that the picture showed what's happening from a different perspective than we'd ever get."
"It's not an anomaly," Sommerville agreed. "The popularity of Max Patch has been growing for many years."
Since 2018, the ATC, CMC and the USFS have been working on a plan to address that growing popularity, called a visitor use management process. The group has made progress, but a lengthy review process remains and will likely generate many changes to the document. The plan is specific to the Max Patch area and goes as far as the Roaring Fork Shelter, located about 2 miles north of the trailhead.
Sommerville said that he'd like to see the final plan put additional restrictions on where people can camp, find a solution to the parking issue, require dogs to be on leash, limit group sizes and encourage people to pack out their waste and other trash. Curtin added that he'd like to see bathrooms installed at the trailhead but doesn't expect that to happen for years due to the National Environmental Policy Act regulations that come into play with projects that include any kind of ground disturbance.
CMC isn't waiting for approval of the final plan to start addressing the issue, however. The group's focus on Max Patch began in 2018, when it hosted a National Trails Day event that attracted nearly 100 people to help with trail maintenance projects at Max Patch. The goal was to eliminate the spiderweb of user-created trails that had been worn down the slope, causing erosion and degrading its stability. To that end, CMC has worked to install 100 locust wood steps to stabilize and harden the trail and has worked with the Forest Service to temporarily halt the annual mowing at Max Patch to allow the grass to grow up and hide user-created trails long enough for them to fade. In addition, the ATC has organized plantings of native grasses and pollinator-friendly plants to attract insects and endangered songbirds like the golden-winged warbler.
The work continued in 2019 with installation of a new three-panel kiosk at the parking area, which seeks to set the tone for respectful visitor use of the area and provide users with important information about the site. CMC also put up plastic fencing to keep people from reinforcing eroded social trails, and is working to replace the plastic with locust wood over time. Improved trail signage also seeks to better orient hikers on their journey.
The group also recognizes that education will be a key component of solving the problems at Max Patch. Many people who visit the area aren't experienced hikers familiar with Leave No Trace principles and outdoor etiquette. In fall 2019, CMC launched a trail ambassador program specific to Max Patch, with eight volunteers going out to the site a dozen times that fall to collect data and interact with visitors. The program was a success, and a training scheduled for March of this year would have expanded the program to include 30 people — but then the pandemic hit and the training never happened.
These efforts to educate visitors at the trailhead are important, said Dowd, but on their own they're not enough. Appalachian District Ranger Jen Barnhart hopes to work with the tourism sector to educate visitors in Leave No Trace principles before they even get in the car.
"They have access to visitors when there still is time to encourage a visitor to 'plan ahead and prepare' before they are on site recreating, including providing alternative hiking locations beyond Max Patch," said Dowd. "This would be a win-win, as local communities surrounding the national forest rely on recreation as an economic driver."
When it comes to Max Patch, said Jones Decker, a win-win is sorely needed.
"I don't know what the answer is, but I know the conversation has been started," she said. "This is the tipping point for Max Patch."
Camping rules at Max Patch
Camping is allowed at Max Patch, though it's not recommended due to danger from lightning and high winds, and several restrictions apply. As always when using public lands, if the parking lot is full it's best to leave and find a less crowded spot.
Campsites must be at least 200 feet away from the A.T. and any water source, and at least half a mile from trailheads or developed recreation areas.
Campfires must be small, confined, constantly attended and use local firewood without cutting down trees. Users must ensure the coals are cold to the touch before leaving.
Visitors must observe Leave No Trace principles, including packing out all trash and depositing human waste in catholes 6 to 8 inches deep.
It is illegal to occupy the same campsite for more than 14 days in a 30-day period, leave camping equipment unattended for more than 24 hours or re-establish a site within 10 miles of a previously occupied site when the combined length of stay will exceed 14 days in a 30-day period.
Leave No Trace
Follow Leave No Trace principles in order to minimize your impact on the outdoor spaces you visit.
Plan ahead and prepare.
Travel and camp on durable surfaces.
Dispose of waste properly.
Leave what you find.
Minimize campfire impacts.
Respect wildlife.
Be considerate to others.
For more information, visit www.lnt.org.