Archived News
Folkmoot cancels 2020 summer festival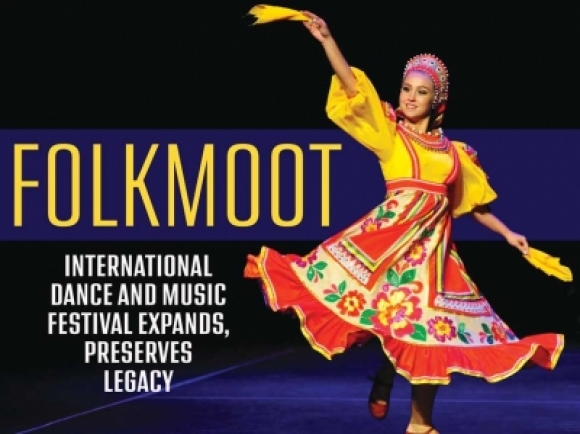 Amid the spread of the Coronavirus Pandemic, Folkmoot USA decided this week to cancel its signature international festival.
Each year in late July, Folkmoot hosts a handful of folk dance groups from around the world. The groups stay at the old Hazelwood school — now the Folkmoot Friendship Center — and for two weeks they perform and share their culture around Western North Carolina. The festival is not only an exciting time for locals who get to experience cultures from around the world, it is also a huge draw for tourists.
The Folkmoot International Festival has a yearly impact of $9.2 million on the economies of WNC, according to an economic impact study conducted by Tom Tveidt of SYNEVA Economics in 2013.
Since that time Folkmoot has expanded its reach to become a community gathering place that hosts arts and culture events year around. As such, the orders to stay at home and not gather have hit the organization particularly hard.
Many of the events Folkmoot had intended to host in the coming months have been postponed for later dates. Mootenanny, the music and mountain heritage festival originally scheduled for May 9-10, has been postponed until Oct. 10-11. Folkmalt, Folkmoot's beer festival, had previously been rescheduled for Sept. 26.
However, due to the complexities of international travel, and the time it takes to organize folk dance groups, and their availability, from several different countries, Folkmoot decided to cancel the international festival.
"In a meeting with the chief health officer of Haywood County over a month ago, he was asking us to pay very close attention to COVID-19 and they thought we were going to have to make some decisions as an organization that could affect us bringing international people to the U.S.," said Folkmoot Executive Director Angie Schwab.
As the virus spread and was dubbed a pandemic, and travel restrictions were put in place, international travel for the foreseeable future became less likely.
"It was around that time where we were starting to hear little bits on the news and started watching the CDC and WHO websites, and the groups that we had been talking to for this year. We began communicating with the directors and started hearing from the regional groups that were planning to travel internationally representing the U.S., and everyone had a lot of concern. While we didn't really know or understand what we were up against at first, we were taking it seriously from day one," Schwab said.
But Folkmoot is committed to providing cultural opportunities for its community. Folkmoot staff and board members are working on the possibility of a weekend-long festival Aug. 14-16 in Waynesville. The festival would combine Americana music and performances by ethnic folk dance groups from the U.S.
"The goal is to emphasize that the U.S. is a cultural quilt. We wanted to build something that would bring people together after the isolation. We are keenly aware of the tax revenue we generate for the county, so our thought was how can we contribute to that," Schwab said. "Arts and culture has a power like no other industry to connect with people in a meaningful way, bring them together, and help repair the damage that we've experienced. Whether it's economic, psychic, spiritual — all of those problems we face as a result of being isolated."
Folkmoot is only one example of how this region is rooted economically in the tourist industry. Greening Up the Mountains, a festival held each April in downtown Sylva, has also been cancelled for 2020. With orders to shelter in place, the possibility of tourism and the revenue it provides is extinct for the time being.
Lynn Collins, executive director of the Haywood County Tourism Development Authority, said, "this is going to be something we've never experienced, as far as the shutdown. We have seen downturns in tourism, but those were unlike anything we're experiencing right now."
Shelter-in-place orders mean that residents of Western North Carolina must work from home, unless they are considered essential industry. Restaurants, retail, and many small business employees are out of work completely.
"The loss of jobs in the community is devastating as a result of state and local ordinances in anticipation of Covid-19 arriving… economists say the impact of this pandemic is far more substantial than both the impacts of 9/11 and the 2008 recession combined," said Nick Breedlove, executive director of the Jackson County TDA.
The TDA in Haywood and Jackson counties have made it clear that local community is their biggest concern during this time.
"Our hospitality industry has suffered losses financially, but as a lifelong resident I am more concerned with our community than our visitors. The citizens of Jackson County are our number one priority right now," said Breedlove.
In Jackson County, the TDA consolidated all its resources for businesses onto www.lovejacksonnc.com, a website developed specifically to support the community right now.
"The site features restaurants, shopping information, areas with free Wi-Fi for students and those without internet and business resources. We are connecting the dots right now for those who still have to run a business to keep the doors open and don't have time to search through countless websites on the Internet to find help," said Breedlove.
Because the ability to promote tourism right now is non-existent, both TDAs are working on consolidating and minimizing their budgets, supporting their communities, and looking to the future while the shutdown continues. Both are working on recovery plans to best assist their communities in rebounding from the shutdown.
"We are in the process of developing a recovery plan… I'm going through the budget and plan to have a finance committee meeting later this week to see how much the committee would be willing to put towards that recovery effort. We will also work with our ad agency to put the recovery plan in place, to get advertising out there once restrictions let up. We know there will be a pent-up demand for travel," said Collins.
The shutdown of all non-essential travel and industry will last at least through April 30, according to a recent announcement by President Trump. From there, the future is uncertain at best.
"We are optimistic about the future and recovery. It will be painful, challenging, and long, but I love the people in this community and this place I call home. We have faced major challenges in the past and will continue to persevere. This community is one that helps one another and lends a hand," said Breedlove.