Archived News
Democrats, Republicans target vulnerable Cawthorn in NC-11
Wednesday, April 20, 2022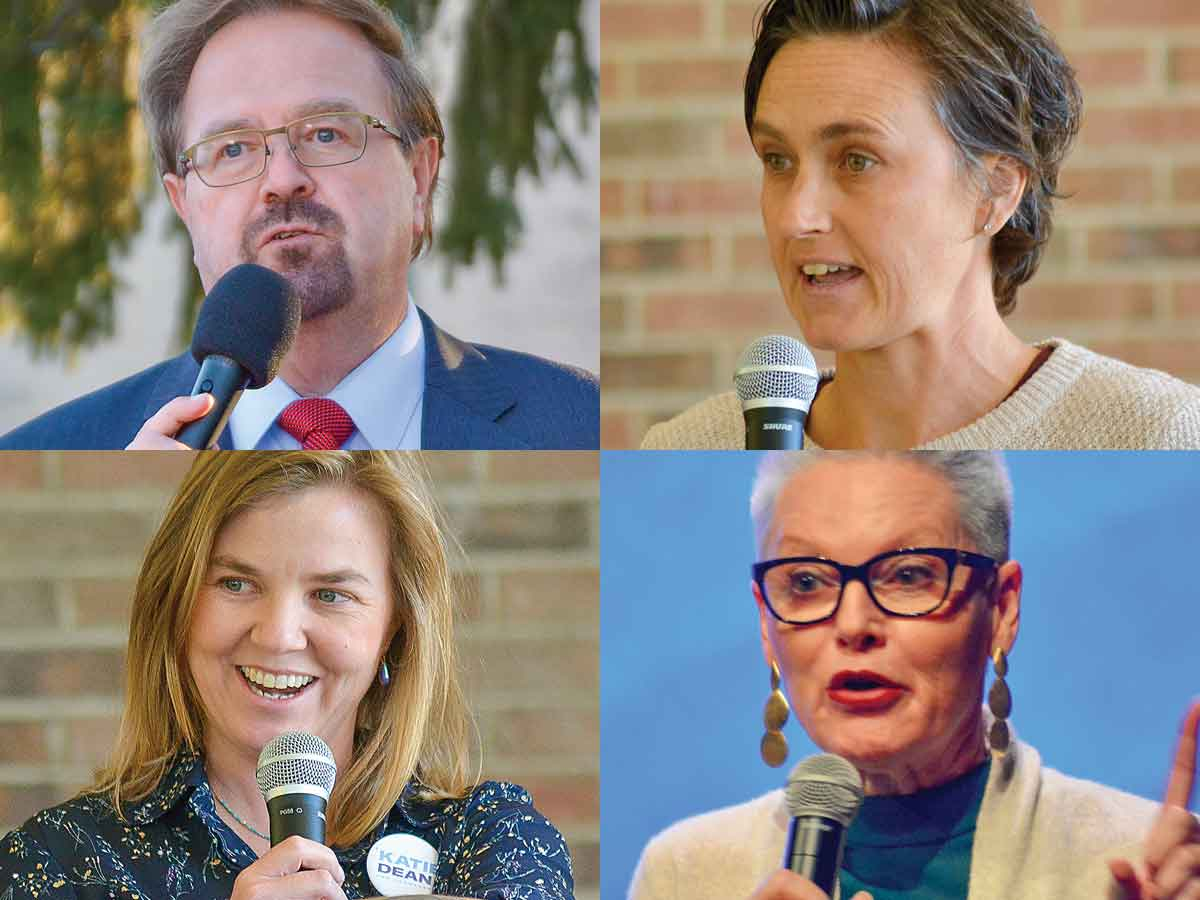 Clockwise, from top left: Chuck Edwards, Jasmine Beach-Ferrara, Michele Woodhouse, Katie Dean
Western North Carolina's 11th Congressional District has garnered national attention for electing one controversial Trump-affiliated Republican congressman followed by another controversial Trump-affiliated Republican congressman who now finds himself in the fight of his political life against fellow Republicans.
Republicans aren't the only ones hoping to make Madison Cawthorn a one-term congressman. An energetic field of six Democrats – some of whom have been campaigning for more than a year now – find themselves in a contest that is less about partisan intrigue than it is about trying to build power outside their traditional Asheville stronghold.
During the 2020 campaign, Democrats were outraged not only by Madison Cawthorn's polarizing statements, but also by the long list of questions about his character. After Cawthorn won and was sworn in on Jan. 3, 2021, it only got worse.
"I always imagined that Democrats would not like me," Cawthorn told Blue Ridge Public Radio in his congressional office just two weeks after rioters stormed the Capitol on Jan. 6.
Six weeks later, Democratic Buncombe County Commissioner Jasmine Beach-Ferrara became the first person to challenge Cawthorn not even two months after he took office.
"I bring a unique background and track record into this race," said Beach-Ferrara, an ordained minister and executive director of the Campaign for Southern Equality. "I've won office twice in two tough races for county commission and then being elected to that seat. I also bring a track record of policymaking and building bipartisan support to pass policies on exactly the issues that are front and center in the lives of families across Western North Carolina."
As a commissioner and a nonprofit exec, Beach-Ferrara has experience with some of the region's most pressing issues, like access to pre-K, the opioid crisis, workforce development and affordable housing. She's the most high-profile of the candidates, and is perceived as the frontrunner by most observers.
But every race has its underdog, and Buncombe County environmental engineer Katie Dean may just be that. Dean is active in the outdoor recreation community, and with her husband Zack owns an auto repair shop, giving her strong exposure to the small business community.
"Our campaign has significant traction amongst that base," she said. "We bring something to the table that most other candidates don't or can't, and that's a level of authenticity and enthusiasm and energy around our campaign to turn out the vote in a variety of demographics that status quo politicians usually struggle with."
One of those demographics is rural Southerners.
Asheville has a Democratic city council and Buncombe County has a Democratic county commission. The county hasn't gone for a Republican presidential candidate since 2004 (narrowly), but the district is about 54% Republican and every state and federal legislator west of Buncombe is a also Republican.
Uncontested races aren't rare and are indicative of how Democrats have recently struggled to reach voters in the most rural and economically disadvantaged parts of the district. That's something Beach-Ferrara is trying to change.
"I think there's probably a number of different reasons we could look at historically," she said. "What I can tell you is that in our campaign, we are fully committed to an approach that is about organizing everywhere and doing that in a way that's about listening what matters to people, and then sharing a message about way that Democrats deliver."
Dean has also recognized the value of reaching out to voters that don't often find Democrats on their doorstep.
"The results of this race is not going to be an either/or," she said. "It's not gonna be either earning the rural vote or earning all of Buncombe County's vote. Our district is 15-and-a-half counties large. It's about the size of Connecticut."
In a district that large, having the money needed to spread that message is crucial, especially among the unaffiliated voters who now make up the largest share of North Carolina's electorate.
As of March 31, Beach-Ferrara has raised almost 15 times the amount of money as the rest of the field combined.
"Our average donation is about $38," she said. "We've had donations from every corner of the district from the start and all told that's enabled us to raise more than $1.4 million at this point."
According to FEC reports, Beach-Ferrara also has more cash on hand than her opponents, and more than Republican frontrunners Cawthorn and Sen. Chuck Edwards.
Dean is a distant second behind Beach-Ferrara in fundraising, counting $56,000 in the current cycle.
"From day one, I've been told it's all about the money, it's all about the money, it's all about the money," she said. "The metric to measure a candidate's worth based on money alone — that's what we're running against. I think the people of Western North Carolina are sick and tired of feeling like we can be bought and paid for."
Dean has earned one interesting endorsement, from a nonpartisan PAC that has only one mission — to unseat NC-11's current representative. It's called Fire Madison Cawthorn, and it caused a stir by first endorsing one of Cawthorn's Republican primary opponents, Wendy Nevarez.
Nevarez was the first Republican to announce a challenge to Cawthorn, just three months after the inauguration. A Navy veteran, Nevarez has positioned herself to the left of the field and will serve as an important test of the sway Cawthorn — and Trump — still hold over the Republican party.
The PAC provoked more controversy by asking Democrats to re-register as unaffiliated before the April 22 deadline so they could vote against Cawthorn on the Republican Primary ballot.
"As a Democratic candidate in the primary, I disagree with the strategy," Dean said. "What I would like to see is that coming out of the primary, the Democratic party be as unified as possible to run a hardworking, energetic, enthusiastic campaign to defeat the branded extremism that Madison Cawthorn has brought into our lives."
Dean is running in a lane slightly to the right of Beach-Ferrara, but the two seem to agree on the nonpartisan PAC's role in this election.
"I don't see how that strategy works in this race, in this moment," Beach-Ferrara said. "One thing that we've been out there just really encouraging folks to do is connect to and support and be part of a campaign you really believe in."
In 2020, Democratic nominee Moe Davis raised more than $2.2 million, and still came up short against Cawthorn's $4.7 million. Plus, voters haven't given Democrats more than 42% of the vote in this district since 2012. Some Dems wonder if this year's race is even winnable.
"If we send the right candidate, yes, 100%, absolutely," said Dean, who recently announced the addition of longtime John Lewis aide and New York Times bestselling author Andrew Aydin to her campaign team. "I think this is a battleground district. The way the maps changed from 2020 to 2022, we lost two counties that were Republican strongholds by well over 60%. So that's advantageous to us."
The redrawn map does make the district just a little bit more Democrat-friendly, but Dean says it doesn't present the whole picture.
"When it comes to the metrics of the race and the data on the page, it tells a story of the past," she said. "What I don't think the data and metrics [show], for how Republican-leaning this district is, I don't think it fully captures the mood and the moment that we have right now."
Beach-Ferrara is likewise working on voters outside Buncombe County who will need to show up strong in both the primary and the general.
"This is a race that is very winnable for the right kind of campaign and that's a campaign that is building a table where there's room for everyone," she said.
Everyone, including Republicans fed up with Cawthorn's controversies.
"Just a day or so ago I spoke with a gentleman who has been a lifelong Republican and he said you know, this just isn't … what he's doing is just not what it means to [be] Republican and not something I want to be affiliated with," Beach-Ferrara said. "He's trying to figure out what to do, that voter, and our job is to be there for that conversation not just once but many times."
Cawthorn addresses supporters at Point Lookout Vineyards in Hendersonville in 2020. Cory Vaillancourt photo
In many ways, Madison Cawthorn owes his political existence to Mark Meadows, the influential former leader of the House Freedom Caucus. Meadows represented North Carolina's 11th Congressional District beginning in 2012 until his last-minute 2019 announcement that he wouldn't seek another term.
Meadows resigned from his seat in 2020 to become chief of staff to President Donald Trump, and is currently under subpoena by the congressional committee investigating the events of Jan. 6. He's also being investigated by state authorities for alleged voter fraud, after advancing debunked conspiracy theories that the 2020 election was stolen from Trump.
Meadows's exit from the heavily Republican district produced a 10-candidate GOP Primary Election in which a then-unknown Cawthorn finished a surprising second to a Trump-backed candidate he later trounced in the runoff.
Once Cawthorn became the nominee, a pattern of troubling allegations emerged.
First, it was alleged sexual harassment of a former classmate. Then it was claims of white supremacist sympathies. Then it was stolen valor, over his rejected application to the U.S. Naval Academy. Then it was his poor academic record and repudiation from former classmates at conservative Patrick Henry College.
Voters didn't seem to care about any of it, and handed Cawthorn a decisive victory over the Democratic nominee in November 2020.
"The people of Western North Carolina said that we are sending a weapon to Washington, D.C. to end this divisiveness, to bring America back to what it once was," Cawthorn said in a triumphant victory speech late on election night.
Still relatively unknown outside his district, Cawthorn first gained national notoriety for his speech at Trump's " stop the steal" rally on the morning of Jan. 6, just three days after Cawthorn took office.
"Wow this crowd has some fight in it," he said at the rally. "I am so thankful that each and every one of you have come."
Cawthorn spent the rest of his first term making headlines. He was stopped with a firearm by Asheville TSA agents. He brought weapons to appearances at local schools, more than once. He warned of bloodshed over false claims of election rigging. He called Capitol rioters "political prisoners."
He also began to lose support from influential backers like retired Henderson County Sheriff George Erwin, and weathered the initial stages of a lawsuit that sought to disqualify him from the ballot for allegedly engaging in a rebellion or insurrection.
Recently it was revealed that Cawthorn had been charged with driving with a revoked license for the second time in three years, and that a former staffer filed a workplace-related formal complaint against him.
Last month, Cawthorn's comments about purported sex orgies and cocaine use in Washington drew outrage, and earned him a meeting with House Minority Leader Kevin McCarthy (R-CA), who said after the meeting that Cawthorn's comments weren't true.
Perhaps the biggest surprise from Cawthorn came last November, when he announced he wouldn't run in the district that had elected him.
"When Congressman Cawthorn decided in early November that he was going to run in the newly drawn 13th Congressional District, he reached out to me personally and asked me — I was serving as his district chair at the time — Michelle, I need you to step in and run," said Michele Woodhouse, former NC-11 GOP chair. "I'm going to run in the Charlotte market. I want you to step in and run over here, to fill my seat."
Cawthorn's announcement, however, was premature. Newly drawn congressional maps were struck down by courts, and Cawthorn's best move was to return to his original district.
Several Republicans had already jumped into the race before Cawthorn's departure, and several more, like Woodhouse, joined after, but now that Cawthorn's back in the 11th District, they're all out to get him.
"He has just proven that he does not have the maturity or discernment to serve the people in Western North Carolina," said Woodhouse. "What I hear across all these counties is people are just so disappointed with his decisions and his antics and the things that he's done. They gave him a chance, and now the reality is we've got another America First candidate who can run, in me, that can take the maturity that we need to Washington D.C."
Three-term Republican state Sen. Chuck Edwards had been critical of Cawthorn in the aftermath of Jan. 6, and jumped into the race upon Cawthorn's departure.
"I believe that the the folks in North Carolina's 11th District are tired of people turning their back on them," Edwards said. "They feel abandoned because Congressman Cawthorn announced to move down to another district, filed to run in that district and then decided to come back and show the people of these mountains that they are his second choice."
Edwards' sense of abandonment isn't much different than Woodhouse's, but there is one big difference between him and the rest of the field.
"I know that people in this district are eager to see somebody go to Washington, D.C. that has actually done the things that everybody else says that they would like to do," Edwards said after a forum in Canton. "I've cut taxes, outlawed sanctuary cities, balanced budgets, voted to protect the Second Amendment. No one else on that stage can say that. And I believe the voters in NC-11 recognize the difference."
Cawthorn has traveled the country raising money and meeting with Trump, whom he now considers a mentor. Almost all Republicans now running against Cawthorn – including Woodhouse and Edwards – have criticized his poor attendance.
"They feel abandoned every single time he misses a vote," Edwards said. "Our voice is not heard, and he's got one of the worst participation records for voting in the entire U.S. House – 416 House members have a voting participation record and so the people of these mountains feel abandoned when their voice is not heard on the U.S. House floor."
And then there's Wendy Nevarez, the Republican endorsed by the Fire Madison Cawthorn PAC.
She bolstered her credibility with moderates when she became the only Republican to call Jan. 6 an insurrection. The audience and other candidates, as heard on radio station WTQZ, booed her.
"I was raised to be opinionated and stand by my principles and conviction of truth and honor," Nevarez told SMN a week later. "And so, at the end of the day, I can sleep at night. I don't believe that a few hundred people in that room represent everybody in the nation or everybody in my party."
Due to the format of the forum, not all candidates had a chance to answer the question, which was first directed at Edwards.
"It clearly was not an insurrection, it was a riot not brought under control by Nancy Pelosi when she would have had the opportunity to do that," he said. "It was a dark day for America but it was not an insurrection."
Associated Press fact checkers say that Edwards' claim about Pelosi, also advanced by Indiana Rep. Jim Banks and Minority Leader McCarthy, is false.
Matthew Burril, chair of the Asheville Regional Airport Authority Board and a fellow candidate, disagreed with Edwards' assessment.
"That wasn't a dark day in America, that was a bright day in America," he said. "We got folks down here who were strong enough to do it, strong enough to go down there and tell those folks that they're wrong."
Burril went on to question the legitimacy of the 2020 election in North Carolina, saying he couldn't understand how a state that supported Republicans Donald Trump and Mark Robinson for president and lieutenant governor, respectively, also elected Democrat Roy Cooper as governor.
Another candidate, Kristie Sluder, doubled down on Burril's assertion.
"I protested that election, that fraudulent election, for three solid months," said Sluder. "I was in D.C. in November, I was in Atlanta in December, I was back in D.C. in January because the people were silenced and the people knew it."
No credible evidence of widespread voter fraud in Georgia or in the United States as a whole in 2020 has yet been presented.
Cawthorn, echoing comments he'd made in the past, said that he was not in favor of dissolving the so-called January 6 Commission if Republicans regain power next year, but instead wanted to use it to investigate who, exactly, was responsible for the violence that day.
"We need answers for the political prisoners in D.C. jails," he said.
The top finisher in the May 17 Primary Election needs 30% of the vote to advance to the General Election.
Democrats include Jasmine Beach-Ferrara, Katie Dean, Jay Carey, Marco Gutierrez, Bo Hess and Bynum Lunsford. If none of them gets there, the top two finishers will compete in a runoff election on July 26.
The same goes for Republicans including Cawthorn, who declined to comment for this story, as well as for Matthew Burril, Chuck Edwards, Rod Honeycutt, Wendy Nevarez, Bruce O'Connell, Kristie Sluder and Michele Woodhouse.
Libertarian David Coatney does not have a Primary Election opponent, and will appear on the November ballot.
Leave a comment
2

comments
This newspaper is run by a bunch of leftwing loons. Everybody with a brain in Western Carolina know this.

Thursday, 04/28/2022

Nice bias there Smoky Mountain News. Highlight the Dem challenger under a headline that mentions all challengers. You obviously have it in for Beach Ferrera, the most activist of the Democrat challengers. You did not want to give a voice to Chuck Edwards or Honeycutt. But no surprise given your editorials and bent.

Wednesday, 04/27/2022